Our Newsletter
Stay up to date and find out what's new by checking out our latest newsletter. Plastic Surgery Specialists issues newsletters on a regular basis to let you know about all the newest developments and services offered by our board-certified plastic surgeons. The newsletter is also a good place to find out about special offers and promotions.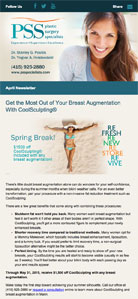 Magazines
Blogs
Videos
Press Releases
Plastic Surgeons in Marin County Focus on Innovative Techniques
A pair of plastic surgeons in Marin County say they offer innovative methods such as EXPAREL® pain reliever to give their patients the best experience possible. Read More
Marin Plastic Surgeons Offer Discounted Breast Augmentation to Study Participants
Plastic Surgery Specialists in Marin County is offering discounted breast augmentation to participants in a study on a topical pain reliever. Read More
LASERS TO BALLOONS, THE SKINNY ON SLIM-DOWN TREATMENTS
New treatments and procedures claiming to blast fat and smooth skin enter the market regularly, offering the possibility of a contoured, toned body. Read More
FDA APPROVED NON-SURGICAL BALLOON WEIGHT LOSS METHOD PATIENTS SHED UP TO 50 POUNDS
Americans spend almost 60 billion dollars annually in pursuit of weight loss with gastric bypass surgery being the most common type of weight-loss surgery; an option that isn't for everyone. Read More
Listen To Your Patients But The Advice They Need May Not Be What They Ask For, Never Be Afraid To Educate
I had the pleasure of interviewing Stanley G. Poulos, M.D. of Marin County California. Dr Poulos is a board certified plastic surgeon and co-founder of Plastic Surgery Specialists, one of the premier aesthetic clinics in California.Read More
Are You Physically and Mentally a Good Candidate for Cosmetic Surgery?
In 2009, then Governor of California Arnold Schwarzenegger signed the Donda West Plastic Surgery Law, requiring health checks be conducted prior to all major plastic surgery procedures in the state.Read More