If you look in the mirror one day and think; enough already, we understand. Many of us are bothered by a face or body characteristic, and wonder what it would be like to feel happy about a tighter neck, a straighter nose, less lumpy thighs, a filled out bikini. You have many choices in your quest to solve your problem.
The aesthetic side of medicine is totally elective and we know our patients have choices. There are numerous plastic surgeons in Marin County and the San Francisco Bay Area, as well as Santa Rosa and Napa Valley. Plastic Surgery Specialists serves men and women from throughout these areas. Dr. Poulos, Dr. Douglas and Dr. Hvistendahl understand excellent surgical results come from listening intently to a patient's cosmetic goals and using their surgical expertise to translate that vision into reality.

Over

40,000

procedures performed
Over

40

years of combined experience
Our experienced team of surgeons combine an aesthetic perspective, the ability to listen closely to your needs, and the skills to achieve those desires. This combination of talent is a hallmark of a world-class plastic surgery clinic, located in Marin County, CA.
Meet Dr. HvistendahlMeet Dr. DouglasMeet Dr. Poulos
Black Diamond
Aesthetic improvement on the non-surgical side is no less artistic, and surgery is not for everyone. With BOTOX®, fillers, lasers and fat, our doctors go well beyond the "fill this line and lose that wrinkle" to develop an individualized plan for each patient that addresses the three D's of aging – Descent, Deflation, and Deterioration. Each D requires a different correction and most of us need all 3 to create that natural look we like to call the "wow" factor.
Our surgeons and our experienced medical support staff set the highest standards for surgical and non-surgical aesthetic procedures. We invite you to request a consultation online to meet personally with one of our plastic surgeons, or call us at (415) 886-0777 to schedule an appointment.
Experienced Specialists
At Plastic Surgery Specialists, Dr. Poulos, Dr. Douglas and Dr. Hvistendahl share a passion for aesthetic surgery. Dr. Poulos and Dr. Hvistendahl honed their skills during residencies at the prestigious UC San Francisco Medical Center. Dr. Douglas perfected his skills at the renowned Emory University in Atlanta, and is double board-certified in Plastic and General surgery. Our plastic surgeons are all board-certified and have extensive training and experience in cosmetic procedures for the breast, body and face. With nearly 60 years of experience between them, our doctors often collaborate for the optimal care of patients.
The team approach extends to our staff, most of whom have been part of Plastic Surgery Specialists for many years. We've had the same operating room personnel for more than 7 years and our professional office staff have also each been with us for long tenures.
Personal Care in a Warm Environment
We believe patient consultations are the cornerstone of successful cosmetic results and a lasting relationship with a patient. Our patients feel at ease during their consultations. If necessary, a surgeon will meet with a patient multiple times to ensure all questions are answered and that the patient understands what to expect from the procedure and the recovery.
State-of-the-Art Facility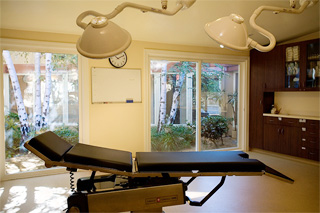 Our surgeons' sense of aesthetics is reflected in the stylish design of our 6,000-square-foot clinic, tastefully decorated with art showcasing dynamic lines and curves mirroring the human form. Our fully accredited surgical center includes the latest technology and is staffed by trained, experienced medical professionals to ensure each patient's comfort and safety. We offer 3D imaging technology so patients can preview the results of cosmetic breast surgery and advanced, minimally invasive body contouring technology.