Arm Liposuction
Conveniently located to serve the areas of Marin, San Francisco, Sonoma and Napa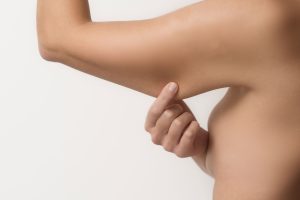 Fat on the arms does not always respond to diet and exercise, and even a toned, healthy person can develop frustrating arm fat and jiggle. This trouble spot is often exacerbated by the aging process as we tend to lose muscle as we age and gain fat deposits in unfortunate places.
Arm liposuction is a safe, effective method of eliminating stubborn fat as it can be precisely controlled to achieve a slim, smooth younger-looking arm contour. The downtime and appearance of scars are usually minimal. When skin laxity is a concern, arm lipo can be combined with an arm lift to achieve optimal results. 
Stop hiding your arms and wear those sleeveless tops without feeling self-conscious. Schedule a complimentary consultation with the experienced team at Plastic Surgery Specialists to learn more about the benefits of arm liposuction today.
About Arm Liposuction
Arm Liposuction is a minimally-invasive, FDA-approved fat elimination surgery. Dr. Poulos, Dr. Douglas and Dr. Hvistendahl custom-tailor every arm liposuction procedure to address the unique needs of the patient. Their advanced arm liposuction techniques deliver superior results, reduce recovery times, and look natural. Incisions are small and easily concealed. You can regain confidence and feel good about your defined, shapely arms.
Dr. Poulos, Dr. Douglas, and Dr. Hvistendahl achieve beautiful arm liposuction results with traditional tumescent liposuction, but also offer advanced techniques like ultrasound or laser liposuction. Their skill and years of experience enable them to deliver their patient's ideal arm contours, every time. The liposuction technique you receive will be determined by your personal preference, the needs of your case, and your surgeon's recommendation.
What are the Benefits of Arm Liposuction?
Arm liposuction remains one of the top-recommended methods of addressing unwanted fat on the arms. Men and women choose arm liposuction because:
It achieves long-lasting fat elimination
It can be nearly impossible to eliminate arm jiggle without surgery
The procedure puts minimal strain on the arms
They are often back to work within a week
The treatment is completely customized to achieve desired results
Arms become smooth and sleek
The procedure can achieve a toned, athletic look
It improves arm contours to help restore confidence and a healthy self-image
Liposuction Techniques
The liposuction technique you receive will depend on a number of factors, including the amount of fat you would like to address, your desired outcomes, and Dr. Poulos', Dr. Douglas', or Dr. Hvistendahl's professional recommendation after their assessment of your case.
Local and general anesthesia are available to keep patients completely comfortable during their arm liposuction.
Patients have the option of receiving arm liposuction with traditional tumescent liposuction, ultrasound liposuction, or laser liposuction. Each technique offers its own benefits.
Traditional Liposuction
Traditional liposuction is performed using a slim cannula, tumescent fluid, and a small number of well-placed, tiny incisions. The tumescent fluid is first injected into the appropriate area of the arms and given time to take effect. Tumescent fluid is a mixture of saline, adrenaline, and lidocaine. The fat cells absorb the fluid and become enlarged. The enlarged fat cells are easier to target and gently extracted from the body. Tumescent fluid has the added benefit of constricting blood vessels in the area. Patients experience reduced post-procedure bruising and swelling as a result.
Once the tumescent fluid has taken effect, your surgeon inserts a slim cannula through a small incision. Incisions are made in places where they will be easily concealed, such as the underarm. Your surgeon uses the cannula to gently dislodge and suction out unwanted fat deposits from the arms. Once the desired contour has been achieved, incisions will be closed with fine sutures.
Ultrasound Liposuction
Ultrasound liposuction eliminates fat from the arms with the assistance of sound waves. In order to perform ultrasound liposuction, your surgeon will first inject tumescent fluid into the treatment area. Once the arms are prepared, Dr. Poulos, Dr. Douglas, or Dr. Hvistendahl will use a cannula with an ultrasound device in the tip to target and emulsify fat deposits. The cannula will then safely suction the fat from the body. The ultrasound has the benefit of tightening tissue in the area. The result is tighter skin and a slimmer, smoother arm contour. Ultrasound liposuction has proven particularly successful at achieving a toned, muscular look of the arms.
Laser Liposuction
Laser liposuction applies targeted thermal energy to melt fat deposits for easy extraction. Once the tumescent fluid has taken effect, your surgeon will use a slim cannula containing a laser microfiber to melt stubborn fat deposits. The melted fat is gently suctioned from the arms. The heat from the use of the laser will additionally constrict tissue and cauterize bleeding in the area. Skin becomes tighter to achieve a dramatic improvement in the contours of the arm.
Liposuction & Arm Lift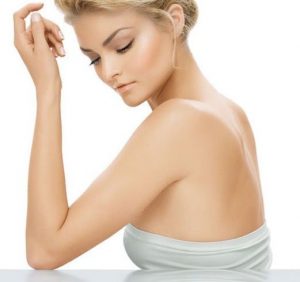 Skin laxity commonly occurs with age or after major weight loss. Patients who have a mild case of skin laxity are often able to restore their skin tone with the help of ultrasound or laser technology. We can advise patients after the liposuction procedure on what non-surgical device will be most effective for skin laxity. Whether it is ultrasound, light, or radio frequency technology, minor skin laxity can be helped by various modalities.
Many patients with moderate or severe skin laxity combine arm liposuction with an arm lift to accomplish their ideal arm rejuvenation. An arm lift is a skin-removal procedure designed to eliminate loose, sagging skin from the arms to achieve smooth, tight contours. Renuvion is a helium-based skin-tightening technology we can use during surgery to subdermally tighten the skin and stimulate collagen. The results have been quite impressive.
Best Candidates
Fat that does not respond to diet and exercise can be frustrating. Age frequently makes weight loss even harder. If the fat on your arms refuses to shrink, no matter how much you work out and eat right, you are likely a good candidate for arm liposuction.
Arm liposuction is not a weight-loss procedure. It is a body contouring solution intended to help overall healthy individuals address specific pockets of subcutaneous fat.
You are a good candidate for arm liposuction if you:
Have resistant fat on your arms
Are at a stable weight
Are in good health
Are a non-smoker
Have healthy skin laxity
Have an optimistic but realistic expectation of procedure outcomes
If you have loose skin on your arms, you are a good candidate to combine arm liposuction with arm lift surgery.
Patients with healthy skin laxity and stubborn arm fat may also be interested in CoolSculpting, a convenient, non-invasive fat elimination treatment. CoolSculpting offers applicators that are perfect for addressing unwanted fat on the arms. CoolSculpting relies on the science of fat-freezing to safely trigger fat cell breakdown. The treatment is over in 45 minutes, with no downtime. The body breaks down and eliminates the fat over a number of weeks following the treatment. Patients see a reduction in the size of their arms within six weeks of CoolSculpting. Results continue to improve for up to six months. A single CoolSculpting session will eliminate fat by up to 25%. Typically Coolsculpting requires at least two treatments for optimal results.
If you are frustrated by the fat on your arms and do not want to undergo a surgical procedure, CoolSculpting is an effective way to reduce arm fat without any downtime, keeping in mind the procedure will not tighten the skin.
The fat elimination treatment that is right for you will depend on how quickly you would like to see results, how dramatic a change you want to make, and your doctor's professional recommendation.
Consultation
Dr. Poulos, Dr. Douglas or Dr. Hvistendahl will meet privately with you to determine if arm liposuction is right for you.
They will discuss the changes you would like to make to your arms and answer any questions you have about tumescent liposuction, laser, or ultrasound liposuction. They will also assess your medical history and medication use to make sure your arm-contouring procedure is appropriate for you. Based on their examination, they will work with you to create a treatment plan that will best achieve your desired look.
If you still have questions after your consultation, please do not hesitate to contact Plastic Surgery Specialists.
Over

50,000

procedures performed
Over

75

years of combined experience
Our experienced team of board-certified plastic surgeons combines a unique aesthetic perspective, the ability to listen closely to your needs, and the skills to achieve those desires. This combination sets PSS apart as a world-class plastic surgery clinic, located in Marin County, CA.
Meet Dr. HvistendahlMeet Dr. DouglasMeet Dr. Poulos
Black Diamond
Preparation
Every patient will receive personalized instructions to help them prepare for the arm liposuction procedure.
Patients may be asked to discontinue the use of certain medications prior to their surgery date. Due to the after-effects of anesthesia, patients are advised to arrange for a friend or family member to drive them to and from their arm liposuction surgery. We recommend asking this person to stay with you overnight for the first night of your recovery. This will guarantee you have the most comfortable start to your recovery. You may also consider buying easy-to-prepare meals ahead of time and arranging for help with children or pets to avoid placing any strain on your arms.
Results
You will notice that your arms are slimmer immediately after your arm liposuction. There will be bruising and swelling in the treated area, but these conditions are normal and will subside within the first week. You should be able to return to work in less than a week after arm liposuction. Your recovery timeline will depend on your personal healing rate and the physical demands of your job.
Patients will receive instructions to help them control any post-procedure discomfort.
Post-procedure swelling will continue to subside for up to three to six months following arm liposuction. As swelling subsides, your arms will reveal their new, slimmer shape. Within six weeks to three months, you will see the final contours of your arms emerge. Your arms will be slimmer, your skin will be tighter.
Cost
The price of arm liposuction depends on the details of each patient's personalized treatment plan. The liposuction technique, anesthesia method, and amount of fat that will be addressed all play a role in procedure pricing. Once you have finalized your arm liposuction surgical plan with Dr. Poulos, Dr. Douglas, or Dr. Hvistendahl, you will receive a detailed cost estimate. PSS offers convenient financing options designed to fit a wide range of budgets.