Arm Lift
Conveniently located to serve the areas of Marin, San Francisco and Napa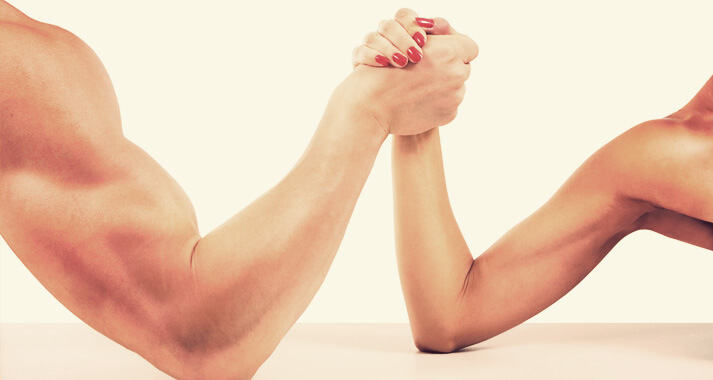 My wife had the right to bare arms"-said Barack Obama of his wife Michele Obama's strong sculpted arms…
An arm lift gives you the confidence to bare arms, reducing or eliminating the underarm jiggle. The procedure surgically removes excess skin that is impossible to get rid of through any amount of exercise.
What is an Arm Lift?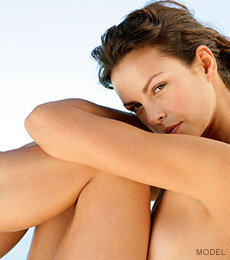 An Arm Lift (or Brachioplasty) removes loose, sagging skin on the inner part of the upper arm. An Arm Lift can create more attractive arm contours in better proportion to the rest of the body. Sagging arm skin that doesn't respond to normal exercise can be one of the first signs of aging. Both thin and heavier men and women are candidates for an Arm Lift.
In Marin County, the board-certified surgeons at Plastic Surgery Specialists also see younger people who have loose skin under the arm resulting from significant weight loss and even hereditary conditions.
Best Candidates
Brachioplasty surgery should be reserved for those who are unable to tone their upper arms through regular exercise; exercise can tone muscles, but not sagging skin. Patients who have minimal excess upper arm fat and no excess skin may find Liposuction a more effective treatment to meet their goals.
Many Arm Lift candidates have undergone significant weight loss. Others are experiencing arm skin sagging as a result of aging. Aging causes inevitable changes in the body that you cannot control, such as sagging or drooping skin. Those who desire Arm Lift surgery should have a relatively stable body weight that is within, or at least not significantly beyond, the normal range for their height and body structure. All Brachioplasty procedure candidates should be in reasonably good health before surgery.
Over

40,000

procedures performed
Over

40

years of combined experience
Our experienced team of surgeons combine an aesthetic perspective, the ability to listen closely to your needs, and the skills to achieve those desires. This combination of talent is a hallmark of a world-class plastic surgery clinic, located in Marin County, CA.
Black Diamond

Get a 3D preview of your possible results.
Learn More
Smartlipo uses laser technology to permanently destroy unwanted fat cells, tighten tissue and improve overall bodyshape – all with minimal downtime.
Learn More
Types of Arm Lifts
During your private consultation with one of our board certified surgeons, they will assess which of the below techniques will benefit you most and give you optimal results. An Arm Lift procedure takes 1 to 2 hours to complete and is usually performed with local or general anesthesia on an outpatient basis. The procedure can be paired with Liposuction if there are fat deposits that need to be addressed as well.
Standard Brachioplasty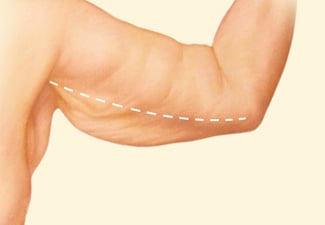 A Standard Brachioplasty involves an incision made from the elbow to the top of the armpit located on the back side of the arm. Excess skin and fat are appropriately removed and the skin is then redraped and tightened. The incision is closed with sutures. The scar will not be visible from the front and will diminish overtime. If desired, the incision can be made on the inner arm so the scar is not visible from behind, but may be seen from the front. Speak with your surgeon to see which will be the better option for you.
Mini Brachioplasty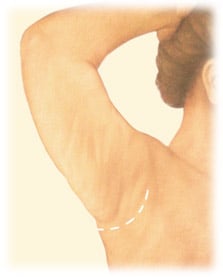 A Mini Brachioplasty is ideal for those who only have a minimal amount of sagging underarm skin. The smaller incision is made in the axilla (armpit) or the top portion of the arm and the scar is hidden in the underarm area. This procedure is only meant for limited skin removal and tightening.
Extended Brachioplasty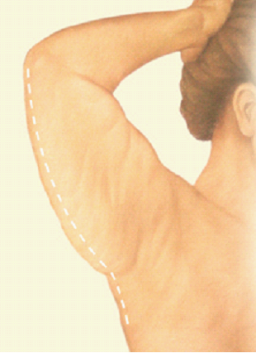 The Extended Brachioplasty, also referred to as an L-shaped Brachioplasty, involves an incision that runs from the elbow, along the arm, ending at the bottom of the armpit. This allows for underarm skin and skin on the side of the chest to be tightened as well.
Consultation
At your private consultation with one of our board certified surgeons, you will share your concerns about your arms and your desired goals. Your doctor will perform an examination to determine if you are a good candidate for a Brachioplasty procedure. If you are, your doctor will assess which type of Arm Lift will give you optimal results. At this time you will receive an individualized preparation list as well as postoperative care instructions. Pricing and quotes can also be discussed at this time.
Preparation
There are some preliminary steps to complete before your Arm Lift surgery. You will be required to get certain medical tests and examinations completed. Stop smoking a couple weeks prior to your surgery, and you should avoid any herbal medications and anti-inflammatory drugs as these increase bleeding. Certain foods such as fruits and lean meat aid in speeding up recovery time; ask your surgeon for a list of these foods so you can stock up for the length of your recovery.
The night before surgery you will be asked to take a shower with antibacterial soap. You should have all of your prescriptions filled prior so you have your medications immediately post-surgery. Do not bring any clothing to wear after surgery that you have to pull over your head; you want something that you can wrap around yourself and not need to lift your arms high. Arrange for a friend or family member to drive you home as you will be unable to yourself. It is recommended to have someone stay overnight with you to aid you at least during the first night of recovery.
The Procedure
For patients who have excess skin located near the armpit, a successful Arm Lift can be effected through an incision right in the armpit, rendering Brachioplasty scars virtually unnoticeable, especially as they begin to fade. For patients who exhibit a lot of excess skin on the upper arm, as can be the case for those who have undergone massive weight loss, tissue must be removed through an incision running from the elbow through the armpit. Your surgeon will take extra care to ensure resulting scars will be as hidden as possible.

In some circumstances, it may also be necessary to extend the incision to an area at the side of the chest. Although there will always be a scar in the armpit, the scar on the inner aspect of the arm itself will vary from a few inches below the axilla to the entire length of the brachium depending on the degree of excess skin. More complex arm procedures can mean Brachioplasty scars, which fade over time. In some cases Liposuction may be done concurrently to reduce the arm size prior to tightening the skin.
During a consultation in our 6,000 square foot medical center in Marin County, our patients can discuss with an Arm Lift surgery specialist which surgery option suits their needs best.
Post Arm Lift Recovery
You arms will be wrapped in bandages and/or a compression garment to reduce any swelling. Patients may be required to wear a small drain tubes for excess fluid, and if so you will be given specific instructions on how to care for them. Some numbness in the arms the first couple of weeks is normal and will subside.
Do not take a shower the week after surgery or until told otherwise, sponge baths are okay until then. You will be prescribed antibiotics, pain medication and/or anti-nausea medication; take these as instructed. Bandages and drain tubes will be removed within a week and patients can return to work or normal activities within 3 to 7 days at your follow-up appointment. Refrain from strenuous activities and heavy lifting for at least 4-6 weeks.
Visitors who searched for Arm Lift may also want to search Liposuction in San Francisco. If you are considering an Arm Lift and live in Novato, Mill Valley, or another area of Marin County, please schedule a consultation with Plastic Surgery Specialists today. Contact us at (415) 886-0777 and one of our friendly staff will help you begin your arm enhancing journey.
Results
The results are seen immediately after surgery, but best results can be seen in about 3 months, depending on the specific patient. Arm Lift surgery will create slim, contoured arms for many years to come, but gaining weight can alter the results. It is important to carry on a healthy lifestyle of exercising and eating well to ensure your results last. It should be noted, an Arm Lift cannot prevent against loss of skin elasticity due to aging.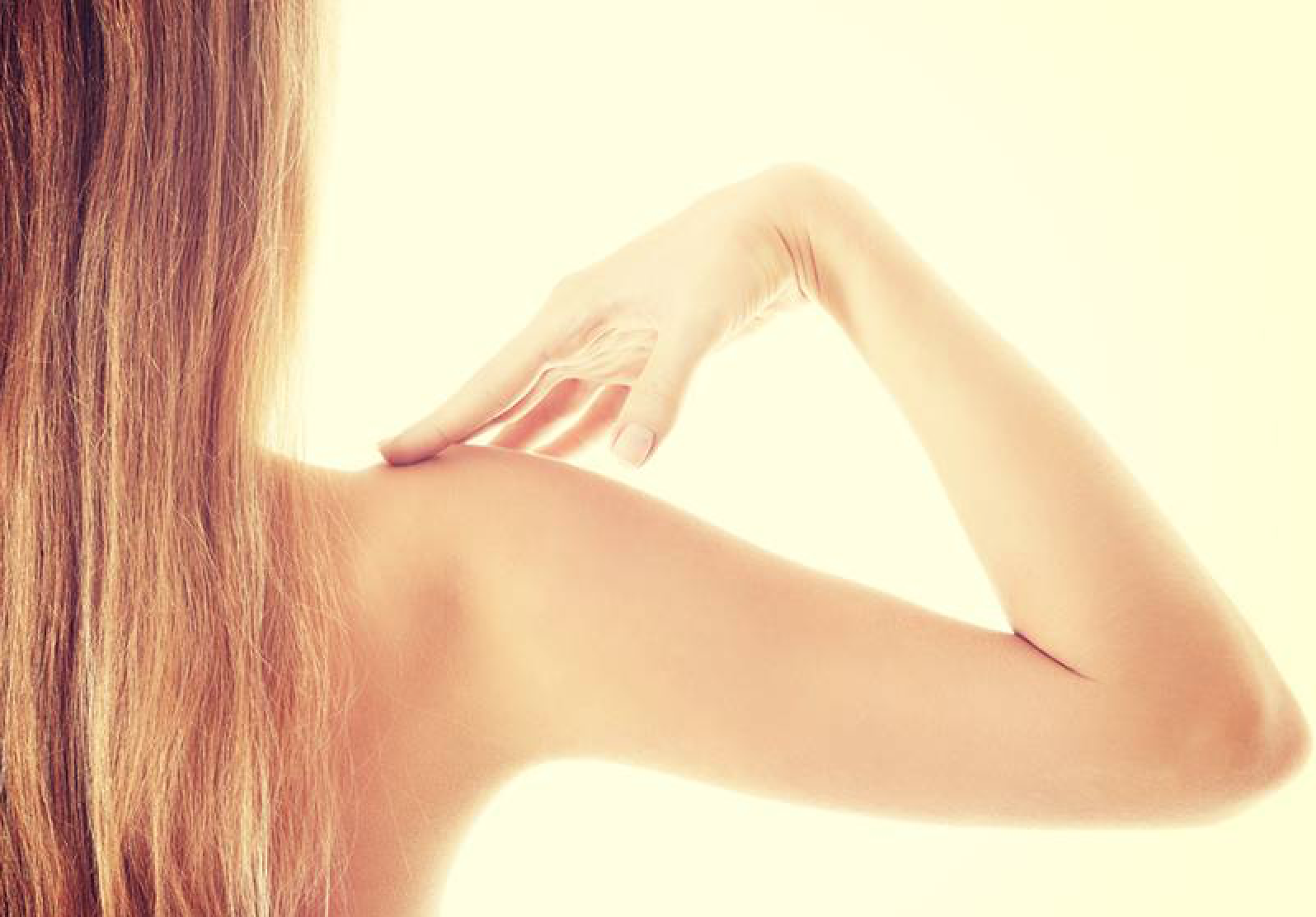 The definition people see in their arms from their procedure instills a new-found confidence as men and women feel more comfortable wearing clothing that shows of their arms.
Cost
The cost of Brachioplasty depends on the degree of your procedure. Undergoing additional body work or facial surgery at the same time will alter the cost of your surgery. You can receive a more accurate quote during your private consultation with one of our board-certified surgeons after they assess your specific case.
FAQ
What is the main trade off of an Arm Lift?
The scar often extends from the elbow to the armpit, which can sometimes be up to 6 inches in length. The scar is not apparent on the outer part of the arms but can be visible for many months after the surgery when the arms are elevated. In severe laxity the excision can include the lax skin to the lateral breast.
How long until I can use my arms for normal activities?
Most patients can resume limited activities in one to two weeks and full use of arms at about one month.
What is a Mini Brachioplasty?
In cases of minimal laxity the incision may be limited to the armpit area. Most of the hair bearing skin of the axilla is removed and the scar is limited to the axilla area. This results in a shorter scar but does not work for severe laxity.
How do I know what type of Arm Lift I need?
During your consultation your doctor will perform an examination and determine which of the techniques we perform will give you optimal results.
Why doesn't working out help tighten my arms and prevent the jiggle?
At a certain point because of aging, genetics, weight loss and other factors, under-arm jiggle cannot be solved without removing excess skin and fat. It is unfortunately one of the first places aging becomes obvious.
How to Find Us
Plastic Surgery Specialists is known throughout the Bay Area for our excellence and expertise. Choose your area below to get accurate, easy-to-follow directions to our center.