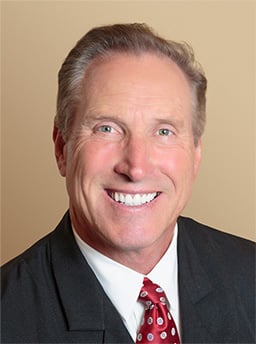 Dr. Stanley G. Poulos was raised in a small town, where he developed a strong work ethic and a desire to help people. The same determination and drive that helped him succeed at the highest level of collegiate football spurred him to excel in his training, and ultimately to establish Plastic Surgery Specialists. Dr. Poulos specializes in cosmetic breast surgery and body contouring procedures, helped pioneer the quicklift facial rejuvenation surgery in California, and is recognized as one of the leading plastic surgeons in Marin County and the entire San Francisco Bay area.
A graduate of the University of Texas Medical School, Dr. Poulos completed his internship and residency at the prestigious UC San Francisco Medical Center. He completed a plastic surgery fellowship at St. Francis Hospital in San Francisco and is certified by the American Board of Plastic Surgery. He was Chief of Plastic Surgery at Marin Medical Center, now serves as Benefit Skin's Medical Director.
Dr. Poulos has expertise and experience garnered over the course of a very successful career, and is known for his warmth, sense of humor and great listening skills. He has created an extremely successful Plastic Surgery Center and Spa due to his constant quest for the best techniques and technologies to keep PSS on the cutting edge of an ever-evolving world of aesthetics.
He is a member of the American Society of Plastic & Reconstructive Surgeons, the California Society of Plastic & Reconstructive Surgeons, the American Society for Aesthetic Plastic Surgery, the Marin Medical Society and the California Medical Association.
Patients throughout the San Francisco Bay area select Dr. Poulos as their plastic surgeon. Request a consultation online to meet with him, or call our office at (415) 687-5087 to schedule a consultation.
A Conversation with Dr. Poulos
Tell us a little bit about your background. Where did you grow up?
I grew up in a small town in West Texas and went to Southern Methodist University on a football scholarship. You know what they say about sports in Texas — there are 2 seasons: football and spring football.
At what point did you start thinking about going to medical school?
For as long as I can remember. When I was first asked as a little boy, "What are you going to be when you grow up?" I said doctor. I never changed my mind.
What attracted you to plastic surgery?
Plastic surgery combines the technical skills of surgery with the aesthetic perspective of an artist. That's very appealing to me.
How did you end up coming to San Francisco?
After finishing medical school in Texas, I came to the UCSF for surgical training. I ended up staying and years later moved across the Golden Gate Bridge to Marin County.
How did you first meet Dr. Hvistendahl?
We met as colleagues in our community and discovered that we shared a vision of creating a special plastic surgery practice. Five years later we founded Plastic Surgery Specialists.
Describe your working relationship with Dr. Hvistendahl.
Dr. Hvistendahl and I are very similar. We both approach our work with a positive outlook. The glass is always half-full. We also share a happy-go-lucky attitude about life and truly enjoy what we are doing.
How often do you collaborate?
We collaborate — and commiserate — every day. We discuss difficult cases, share what we've learned from past surgical experiences and just generally are there to bounce ideas off of. That's the best part of being a team.
What do you think sets you apart from other plastic surgeons?
Plastic Surgery Specialists is a team of 10 dedicated individuals — not just the surgeons. Our goal is to deliver the same excellent experience to every single patient.
What about outside of work? Do you have hobbies or interests that you pursue?
I don't know if it's a passion or a vice, but golf is my sport. I have played with the same guys for 30 years. I try to live every day, whether at work or play, as if it's the last day because one day it will be just that!

Find Dr. Poulos on Smart Beauty Guide