Liposuction and Renuvion
Conveniently located to serve the areas of Marin, San Francisco, Sonoma and Napa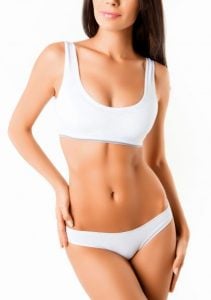 Even small amounts of fat can be resistant to exercise and dieting and hide muscle definition. At Plastic Surgery Specialists, we offer a treatment that removes this fat and helps you achieve a sculpted, slim body.
Liposuction is often used to reduce small, local fat stores. Combining lipo with Renuvion, a minimally invasive skin tightening treatment, can truly maximize your results and ensure fast recovery. With lipo and Renuvion, superior fat reduction techniques are combined with precision radiofrequency technology to provide smoother body sculpting results.
At PSS, our team of highly-qualified aesthetic plastic surgeons use their more than 75 years of combined experience to help you sculpt your body and provide you with beautiful, natural results. Dr. Poulos, Dr. Douglas and Dr. Hvistendahl have been known as leaders in the field of aesthetic plastic surgery for many years.
About Liposuction Combined with Renuvion
If you are struggling to reduce particular areas of fat, liposuction may be an excellent solution for you. Liposuction is a popular fat removal technique that was developed in the 1960s. This method uses small incisions to access the fat deposits. A thin tube (called a cannula) topped with an aspirator (a suction device) is used to remove fat and help sculpt your body.
This procedure has greatly evolved since the sixties. Today, there are many technological improvements that allow surgeons to reduce fat in less time with less downtime. Liposuction is a minimally invasive procedure that allows surgeons to add additional treatments to enhance a patient's results even further. One of those enhancement techniques is Renuvion, which can be used to tighten sagging skin on the neck, abdomen, back, arms, or legs. 
Renuvion is a CO2 laser skin resurfacing device that implements both radio frequency (RF) energy and plasma to produce skin tightening results that further reduce fat and enhance muscle definition and skin tautness. The procedure emits RF energy alongside helium to the treatment area. Renuvion will keep your skin at a comfortable temperature while improving skin laxity and boosting collagen levels. Collagen is a protein found in the skin that is responsible for keeping skin firm and thick. A boost in this protein will help revitalize your skin and restore a smoother, even texture.
Renuvion can be used in combination with liposuction surgery to achieve better results than either treatment can achieve on its own.
The combination of Renuvion and liposuction achieves a superior result because it both sculpts the body and tightens skin, resulting in a better shape with improved skin texture and tightness. The use of this technology will reduce blood loss and help shorten recovery time. For truly transformative results, you can combine Renuvion with lipo or apply it to another area to create a comprehensive improvement in your appearance.
Liposuction Options
At PSS we offer a full selection of the most advanced liposuction technologies to ensure our patients achieve optimal results.
SmartLipo
SmartLipo is a laser-assisted liposuction procedure that uses laser energy to emulsify fat and restructure the skin. The SmartLipo system's lasers will act similarly to Renuvion's system to minimize blood loss and tighten treated skin. SmartLipo allows for strategic fat removal and significant, localized body contouring and helps minimize bruising and swelling for a quicker turn-around.
A small laser fiber will be inserted into the treatment area to effectively target fat cells and emulsify them. The fat will be removed from your body and the remaining tissue will be sculpted to provide natural contours. You should be able to show off your results a few days after your treatment!
Vaser Hi-Def Lipo
Vaser Hi-Def Lipo is an ultrasound assisted treatment. VASER stands for Vibration Amplification of Sound Energy at Resonance. During this treatment, ultrasound waves will target fat cells to delicately dislodge them from surrounding tissues. This procedure is combined with a tumescent fluid to produce an effective, quick procedure that also provides a fast recovery period.
Tumescent fluid is made of saline, epinephrine, and an antihistamine. This fluid combination helps to firm and swell the treatment area. The epinephrine will contract blood vessels, helping to reduce blood loss and bruising while the antihistamine works to locally numb the area.
When the ultrasound probe is inserted into the treatment area, the sound waves will shake the air bubbles present in the tumescent fluid. These bubbles will fluctuate, helping to gently dislodge fat cells. Vaser Hi-Def lipo is a minimally-invasive treatment that will quickly sculpt your body without more than a few days of downtime.
Candidates
If you have been exercising but are having a hard time reducing fat along your abdomen, thighs or flanks, you may consider looking into liposuction. There are many advantages to combining liposuction and Renuvion. The primary benefit is that Renuvion will shorten your recovery period and help improve the quality of your skin. Renuvion can be applied to the treatment area after it has healed to help reduce more fat and improve muscle definition.
Over

50,000

procedures performed
Over

75

years of combined experience
Our experienced team of surgeons combine an aesthetic perspective, the ability to listen closely to your needs, and the skills to achieve those desires. This combination of talent is a hallmark of a world-class plastic surgery clinic, located in Marin County, CA.
Meet Dr. HvistendahlMeet Dr. DouglasMeet Dr. Poulos
Black Diamond
Speak with Marin County's Body Contouring Experts
In your personal consultation with one of our board-certified aesthetic plastic surgeons, you will have the opportunity to share your concerns and your goals for improving your appearance. Your surgeon will listen and ask about your general health, past procedures, medications, and allergies. They will also examine the area you are concerned about, take photographs and chart measurements to create an accurate plan for the procedure. Together, you will create a treatment plan that addresses your concerns and works to achieve your best results.
The surgeon and surgical team will walk you through the steps of a liposuction and Renuvion procedure, informing you of the potential risks and expected outcome. They will also tell you how to best plan for the procedure and what to expect during your recovery. This is a great time to ask questions so you can gain a realistic expectation of your experience.
Some of these questions we suggest you begin with asking are:
How long will my procedure be?
How many days should I take off from work?
What is the length of the full recovery period?
Will there be much discomfort following the procedure?
When can I expect my final results?
Preparation
Prior to your surgery, you will need to obtain medications and any other necessary products for your recovery. You will likely need to arrange for a friend or family member to drop you off and pick you up from the procedure appointment. On the morning of your appointment, dress comfortably and arrive a few minutes early.
It's important that you follow your surgeon's instructions leading up to the surgery date in order to achieve the best results.
Procedure
When you arrive for your procedure, the surgical team will greet you and prepare the area to be treated. They will clean the predetermined area and mark where the incisions will be applied. These marks will help guide your surgeon through the procedure. Once completed, your predetermined anesthesia will be applied.
Once you are comfortable, your surgeon will gently apply incisions with the Renuvion device, through which your preferred choice of liposuction will be implemented to reduce stubborn fat.
The overall procedure may vary from two to five hours depending on the area(s) treated.
Recovery & Results
Following the procedure, your treatment area will be swollen and bandaged. A compression garment will help set your new contours. The swelling will decrease in the following days and medication will help control any discomfort. A follow-up appointment will help your surgeon monitor your results and make sure you are recovering well.
Your results will take a few months to set in, but once the swelling subsides you should see transformational improvements. After the area is treated, Renuvion can be applied to help restructure the subdermal layers of your skin, reducing more fat and toning your skin. The results achieved with the combination of liposuction and Renuvion will be long-lasting and, with a healthy lifestyle, will remain consistent for years.
Cost of Liposuction and Renuvion
The pricing of each liposuction and Renuvion procedure will vary based on the extent of improvement desired. Your surgeon will customize each treatment to address your concerns and flatter your unique anatomy. PSS offers convenient financing options designed to fit a wide range of budgets. For more information about the best skin tightening and slimming procedure for you, schedule a consultation with PSS today at (415) 886-0777.