Chemical Peels
Conveniently located to serve the areas of Marin, San Francisco and Napa
What are Chemical Peels?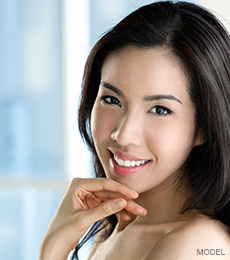 Chemical Peels are one of the most popular non-invasive cosmetic procedures available to rejuvenate the skin. Chemical Peels can soften lines and wrinkles, ease acne scars, and smooth irregularities on the face, neck, and hands. People wanting to eliminate uneven pigmentation, or even treat pre-cancerous skin lesions, choose to have a Chemical Peel. Our Marin County plastic surgery practice offers all levels of chemical peels, including superficial, medium, and deep.
Different Levels of Chemical Peels
Chemical Peels are performed at various levels, depending on each patient's individual goals. Superficial Peels are performed using mostly naturally occurring acids. They provide a safe and effective treatment for fine lines, pigmentation abnormalities, acne scars and dry skin. The application of a Superficial Peel via Chemical Peels causes the damaged outer layers of the epidermis to peel away. The skin layers that remain will experience increased cell growth, resulting in a smoother, revitalized and more youthful appearance. The Superficial Peel is often referred to as a "lunchtime procedure", because it only takes about 15 minutes. Other non-surgical treatments, such as Venus Viva™, treat fine lines, acne scars, and uneven skin tone.
Over

40,000

procedures performed
Over

40

years of combined experience
Our experienced team of surgeons combine an aesthetic perspective, the ability to listen closely to your needs, and the skills to achieve those desires. This combination of talent is a hallmark of a world-class plastic surgery clinic, located in Marin County, CA.
Black Diamond
Medium Peels are another option offered via Chemical Peels in our Marin County surgical center. Medium Peels penetrate deeper into the layers of the skin, using higher concentration chemical solutions. Because there is some risk for skin discoloration, Medium Peels are best performed on patients with fairer complexions. Whereas the focus of the Superficial Peel is the epidermis, the Medium Peel penetrates the upper layers of the dermis, which lies beneath the epidermis. Increased cell growth and collagen production at this level actually improve the skin structure. Medium Peels can take between 15 and 60 minutes.
Deep Peels are the most far reaching of the non-invasive procedure components of Chemical Peels, and they can produce the most dramatic results, however, they are also associated with higher risks. Because Deep Peels permanently lighten the skin, they are not appropriate for patients with dark complexions. Deep Peels penetrate into even deeper regions of the dermis than do Medium Peels. As a result, they can treat deep lines, more severe acne scars and extensive sun damage. A Deep Peel procedure can take one to two hours and requires a local or general anesthetic. The recovery time is also more extensive and most patients will want to stay home for about a week after the procedure. But whereas the Superficial and Medium Peels need to be repeated after a period of time to ensure the best results, Deep Peels are virtually permanent, lasting for years to come.
For more information on Chemical Peels or non-invasive cosmetic procedures offered by Plastic Surgery Specialists, please visit our Education Center. Visitors who searched for Chemical Peels may also be interested in Laser Skin Resurfacing. If you are interested in getting a chemical peel and live in San Rafael, Novato, or another area of Marin County, please schedule a consultation with Plastic Surgery Specialists today. Contact us at (415) 886-0777.
How to Find Us
Plastic Surgery Specialists is known throughout the Bay Area for our excellence and expertise. Choose your area below to get accurate, easy-to-follow directions to our center.