Fat Transfer Breast Augmentation
Conveniently located to serve the areas of Marin, San Francisco, Sonoma and Napa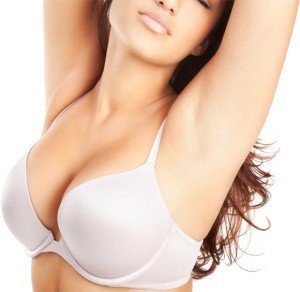 When women think of breast augmentation, they typically think of implants. However, not all breast augmentation procedures require implants. For smaller augmentations, transferring fat from one area of the body to your breast is an option you may not be aware of. Fat transfer breast augmentation has the added bonus of contouring and shaping an area of your body that bothers you while augmenting an area that may be smaller than you'd like.
Dr. Poulos, Dr. Douglas, and Dr. Hvistendahl are highly trained in performing fat transfer procedures, which essentially combine two procedures in one. First, patients undergo liposuction to collect excess fat from the body, giving patients the opportunity to sculpt and contour their bodies. Then, the doctors inject this extra fat tissue into the breasts for natural augmentation.
What is Fat Transfer Breast Augmentation?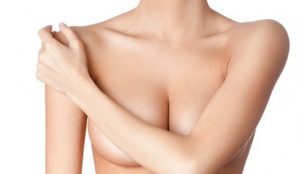 A fat transfer breast augmentation is a more natural alternative to traditional breast augmentation with implants. The procedure uses liposuction to first collect fat from the patient's body. The fat is typically collected from two to three locations on the body where the patient has excess fat deposits. Some of the most common locations where the fat is gathered include the arms, back, abdomen, flanks, buttocks, and thighs. This may vary depending on the patient's individual case. The fat is then purified and enriched before being injected into the patient's breasts. This fat will take to the new area where it is injected, giving the patient long-lasting, natural-looking and feeling results.
Fat Transfer vs. Implants
Traditional breast augmentation surgery uses implants in order to increase the volume of the breasts. The two main types of implants utilized are saline implants and silicone implants.
Saline Implants
Saline implants are filled with sterile salt water so if a saline implant ruptures, it will immediately be visible. This means that patients do not have to worry about silent ruptures or undergoing routine, and costly, MRI scans. There is a tradeoff, however, for the safety and security that saline implants provide. Many women find that saline implants do not look or feel as natural as silicone implants. The sterile water they are filled with does not resemble natural breast tissue.
Silicone Implants
Most women agree that gel-filled silicone implants more closely resemble natural breast tissue. Many years of study have shown no relationship between silicone and autoimmune diseases previously felt to be associated with these implants. Today the majority of implants placed are silicone.
Fat Transfer
A fat transfer breast technique solves both of the main problems posed by implants. Since a fat transfer breast augmentation uses fatty tissue from the patient's own body, it will look and feel natural – because it is! This technique makes it extremely safe, though there is a very small chance of infection with any procedure. Rupturing or capsular contraction is a non-issue. Since the fat comes from the patient's own body, there is no chance of the body rejecting the tissue as foreign matter, leading to adverse reactions. Furthermore, there is no need for MRI scans.
Benefits of Fat Transfer Breast Augmentation
Looks and feels natural
No risk of rupture or capsular contracture
No chance of allergic reaction
No prominent scarring
Long lasting results
No need for maintenance, including implant replacement or MRI scans
Besides enhancing the breasts, fat transfer breast augmentation also provides all the benefits of liposuction. It allows patients to finally get rid of stubborn excess fat deposits that are not responding to diet or exercise. Patients can sculpt their arms, torso, and legs for full-body results.
Best Candidates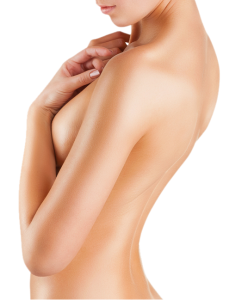 Ideal candidates for fat transfer breast augmentation are healthy women who wish to augment their breasts without implants. Patients must however only want to increase the size of their bust by one or two cup sizes. If a patient needs to address drooping breasts or wants a more dramatic result, implants or a breast lift may be a more appropriate solution.
In order to be considered for fat transfer breast augmentation, patients need enough fat deposits on their body for the fat transfer. Since some of the fat cells will not "take" the doctor has to harvest more than enough fat to be able to account for some cell die-off. Slimmer patients may not be good candidates and may want to consider implants instead.
In general, patients should be in good health. This means they should be nonsmokers and at a stable weight. While patients with slimmer builds may not be good candidates, patients who are obese will not be good candidates either. Patients should already be at or close to their ideal weight. Significant weight fluctuations can affect a patient's results. The best way to find out if you are a candidate for a fat transfer breast augmentation is by meeting with a board-certified plastic surgeon like Dr. Poulos, Dr. Douglas, or Dr. Hvistendahl. The doctors at Plastic Surgery Specialists will be more than happy to work with you to determine the best procedure to help you achieve your desired results. Contact our Marin County offices today to get started.
The Procedure
A fat transfer breast augmentation is typically performed as an outpatient procedure under general anesthesia. Prior to the surgery date, patients should make arrangements for somebody to pick them up following the procedure, as they will not be able to drive due to the anesthesia. Furthermore, prior to the surgery date, patients should fill and pick up any medications prescribed by Dr. Poulos, Dr. Douglas or Dr. Hvistendahl.
Liposuction
The first step in a fat transfer breast augmentation procedure is to perform liposuction to harvest fat for the injections. Liposuction can be performed anywhere where the patient has excess fat deposits. Some common places where liposuction is performed include the arms, back, abdomen, flanks, and thighs. The doctors will typically perform liposuction on 2-3 locations on the body.
Purification
Prior to being injected, the fat harvested during liposuction needs to be cleaned and purified. Using a centrifuge, the most pure and viable fat will be separated from other components. This will help ensure that the maximum amount of fat possible will survive in the new location.
Injection
Dr. Poulos, Dr. Douglas or Dr. Hvistendahl will then inject the fat into the breasts using special syringes. The fat will be grafted at varying depths and in even increments. Not only does this technique ensure that the most possible fat will survive in the new location, but it also ensures that the breasts acquire a round, proportionate aesthetic. Once the appropriate amount of fat has been injected into the breasts for augmentation, the patient will be taken to a recovery room where they will wake up from anesthesia surrounded by our knowledgeable and attentive staff.
Recovery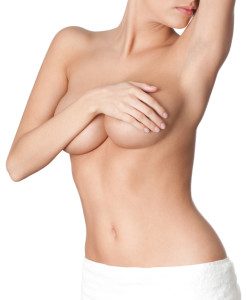 Following surgery, the liposuction and injection sites will be properly bandaged. The patient will also be outfitted with a surgical bra to help the breasts settle into their final position. They will be able to return home following surgery. However, since they will have received anesthesia, they should make prior arrangements for another adult to drive them home from surgery. They should also make sure there is another adult with them at home the first night after surgery.
Patients should take at least three to five days off from work in order to allow their body to properly recover. During this time and for up to three weeks, patients may experience some bruising, bleeding, and discomfort. Patients will be provided with medication to help alleviate any discomfort. Breast augmentation fat transfer patients should plan on coming into our Marin County offices for follow-up examinations at predetermined increments following their procedure.
Results
Patients will be able to enjoy their final results at approximately the six month mark.
Not all of the fat cells from the procedure will survive in their newly grafted position. For this reason, the doctors will slightly over-graft the area to make sure that the patient enjoys their final results.
Over the course of three to six months, the fat cells will take to the new location. The cells that do not survive will be naturally processed out of the body. In some cases, the patient may require a second fat transfer procedure in order to attain their desired results. Our doctors will schedule follow-up appointments in order to check in with the patient personally and make sure that they are satisfied with their results.
Consultation
At the time of the consultation, the patient will meet personally with one of our board-certified plastic surgeons, Dr. Poulos, Dr. Douglas, or Dr. Hvistendahl. The doctor will ask the patient about their concerns, why they are interested in a fat transfer breast augmentation, and what they hope to achieve from the procedure. He will also ask the patient about their medical history, any medications they take, and surgeries they've had in the past.
Then, Dr. Poulos, Dr. Douglas, or Dr. Hvistendahl will conduct a thorough examination to determine whether or not the patient would be a good candidate for a fat transfer breast augmentation. At this time, they will determine if the patient has adequate fat deposits to perform the procedure and meet the patient's goals. Depending on the doctor's findings, they may determine that the patient is better suited for breast implants. In some cases, they may recommend a combination of both implants and fat transfer. After the examination, our staff will be able to provide the patient with an accurate price estimate for the procedure.
In order to get started and find out whether or not you would benefit from a fat transfer breast augmentation, please contact our office in Marin County and request a consultation.
Over

50,000

procedures performed
Over

75

years of combined experience
Our experienced team of board-certified plastic surgeons combines a unique aesthetic perspective, the ability to listen closely to your needs, and the skills to achieve those desires. This combination sets PSS apart as a world-class plastic surgery clinic, located in Marin County, CA.
Meet Dr. HvistendahlMeet Dr. DouglasMeet Dr. Poulos
Black Diamond
How to Find Us
Plastic Surgery Specialists is known throughout the Bay Area for our excellence and expertise. Choose your area below to get accurate, easy-to-follow directions to our center.