Skin Renuvion
Conveniently located to serve the areas of Marin, San Francisco and Napa
Can you tighten skin after Liposuction to truly achieve a beautiful smooth contour? Is it possible to use subdermal heat to tighten skin from underneath for more effective treatment and results? The answer now is yes.
Revolutionary skin tightening technology uses plasma energy for long-term results.The quality of your skin is often the most revealing sign of aging. At Plastic Surgery Specialists, we've searched for the most effective method to rebuild collagen and renew youthful skin texture. Renuvion is a new procedure which uses ionized gas to improve both skin laxity and turgor by rapidly heating and shrinking collagen. This proprietary balance of helium and RF energy, Renuvion has been described as ideal for medical procedures where precision and control are key to an effective treatment. Since it was discovered to have a distinct effect on tissue contraction, we've embraced the technology.
Renuvion is used in two ways; as a resurfacing technique for the face and other areas that have skin damage, and subcutaneously (under the skin) to tighten beneath the skin, usually in conjunction with a Liposuction procedure. Renuvion offers real benefits during Liposuction to tighten skin when fat is removed, preventing the look of lax or loose skin after surgery.
The results are remarkable and reproducible. Plastic Surgery Specialists is the first practice in the North Bay to offer Renuvion treatment.
Skin Renewal Inside and Out
Renuvion has variable applications:
Renuvion for the face: Topically applied, Renuvion causes deep resurfacing of the facial skin which treats significant wrinkles, laxity and dyschromia. The typical recovery after this treatment is a minimum of 2 weeks.
Renuvion for the body: This is a subdermal procedure. Doctors use this novel technology to apply energy beneath the skin, causing a contraction effect that's gentle on tissue. The effect of the treatment may continue to improve over time and doctors often report that the contraction effect is noticeable immediately after the procedure. This can be done alone or in combination with liposuction for fat reduction. Subdermal application of Renuvion is useful for skin laxity of the abdomen, back, arms, legs and neck.
Before & Afters
These images are examples of the Renuvion device used as a tool for coagulation1 resulting in tissue contraction2. As with any procedure, individual results may vary.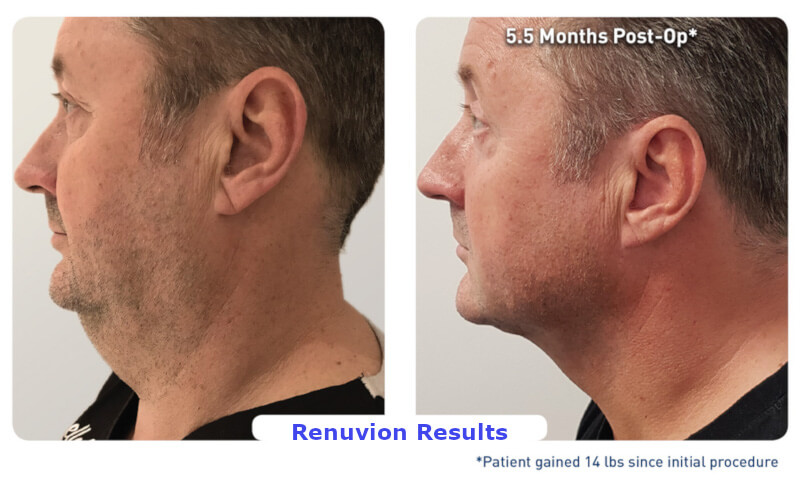 Patient: 51-year-old male.
Procedure Type: VASER liposuction
Amount of Fat Removed: 100ml
Renuvion used subdermally on jowls and neck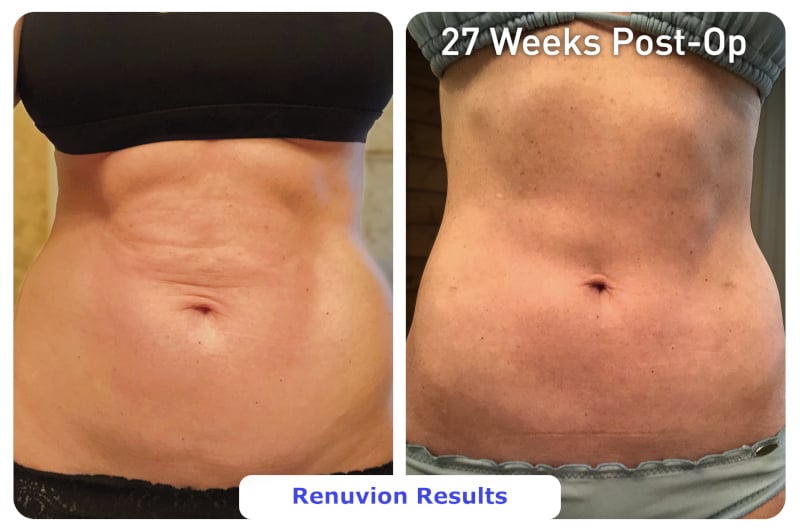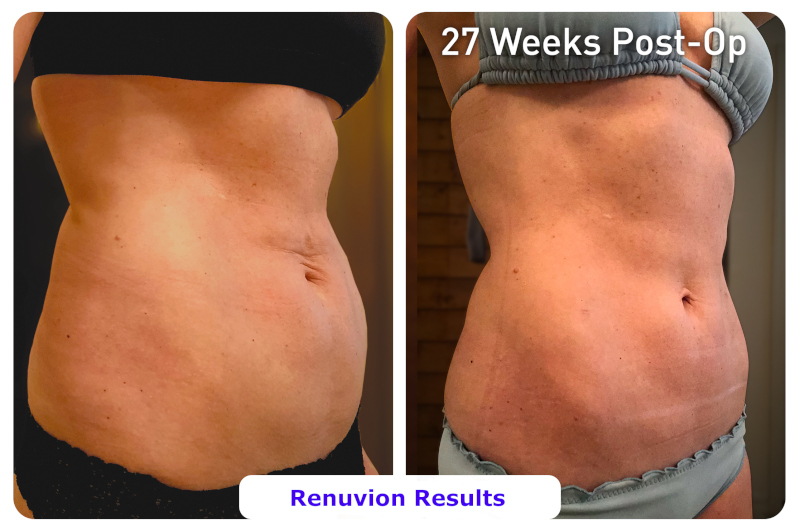 Patient: 40-year-old, mother of two.
Procedure Type: Ultrasonic liposuction
Amount of Fat Removed: 150cc
Renuvion used subdermally on entire abdomen
1The Renuvion system is intended to be used for the delivery of radiofrequency radiation and/or a helium gas plasma for electrosurgical cutting, coagulation and ablation of soft tissue during open surgical procedures. As with all energy devices there are inherent risks associated with its use, refer to the IFU for further information.
2Feldman LS, Fuchshuber PR, Jones DB. The SAGES Manual on the Fundamental Use of Surgical Energy (FUSE). Springer Science+Business Media, LLC. 2012.
Deep Resurfacing for Real Results
For 30 years, CO2 laser resurfacing has been the gold standard to improve the quality of your skin and reduce facial wrinkles. Renuvion cosmetic technology is the result of extensive scientific research and clinical development. Renuvion uses a gentle waveform to convert helium, an inert gas, into a cold atmospheric plasma. Helium is used because it can be converted to a plasma with very little energy. The result is energy that's able to provide unique heating with near instantaneous tissue cooling. Resurfacing with Renuvion provides results as good if not better than traditional CO2 facial resurfacing.
DEMONSTRATED EFFICACY
J-Plasma energy has been shown to be safe and effective in numerous surgical procedures where precise delivery of energy coupled with minimal thermal spread to adjacent tissue is beneficial. In cosmetic procedures, this allows for controlled coagulation of tissue.
SURGICAL IMPACT WITH MINIMALLY-INVASIVE PROCEDURES
Offering a long-awaited alternative to more invasive procedures, Renuvion provides dramatic results with lower risk and recovery time than more invasive surgery.
Am I a Candidate for Renuvion J Plasma Skin Tightening?
Our skin loses elasticity for a myriad of reasons; decreases in collagen, changing hormones, aging due to environmental and sun damage, to name a few. Renuvion skin tightening candidates include men and women with loose or sagging skin in the face or body due to weight loss, pregnancy, or age.
To see if Renuvion with J Plasma Skin Tightening is the procedure for you, please contact our office to book a free consultation. We would love to see you, and if you are not located in the area or are too busy to make it to the office, we can arrange a virtual consultation.