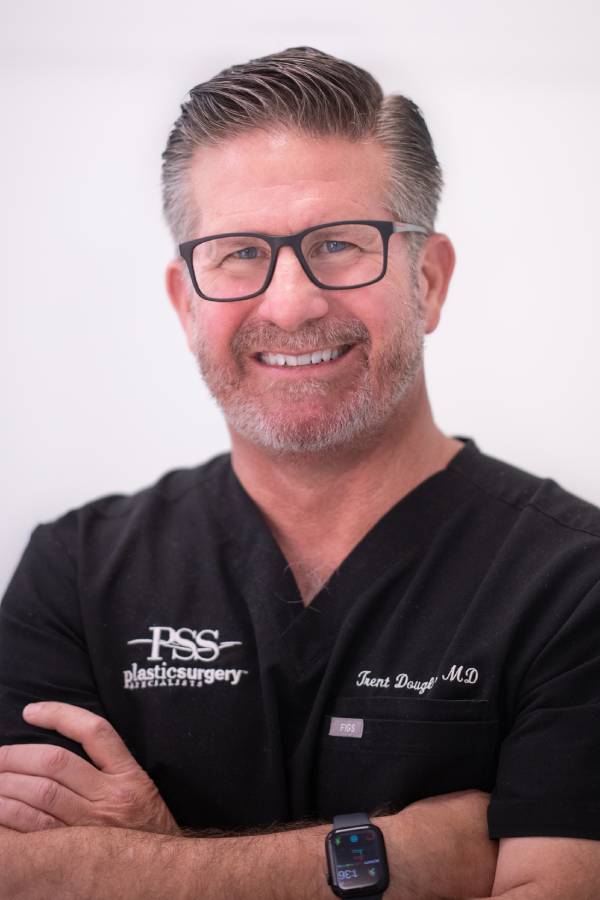 Dr. Trent Douglas is an experienced, trusted, and recognized authority in the plastic surgery field. He understands that the decision to start a plastic surgery journey is very personal and comes at different times and ages for every patient.
As an experienced board-certified plastic surgeon, Dr. Douglas utilizes the latest techniques and technology to achieve consistent results in the safest environment. Dr. Douglas loves to get to know his patients and will partner with you to develop a treatment plan that is customized to your individual features, aesthetic goals, and recovery timeline. "Warm, compassionate, caring, dedicated, and skilled" are words often used by patients to describe Dr. Douglas.
Dr. Douglas completed his undergraduate degree at the University of Virginia and went on to obtain his medical degree from Emory University School of Medicine in Atlanta, Georgia. He performed his General Surgery Residency at the Naval Medical Center San Diego before returning to Atlanta to complete the rigorous and highly prestigious Plastic Surgery Residency at Emory University. Before moving to Marin County, Dr. Douglas was part of the San Diego community for many years having served as a plastic surgeon at the Naval Medical Center San Diego from 2006-2017 with double-board-certifications in Plastic and General Surgery. His deployments included Afghanistan as well as multiple humanitarian aid missions to Southeast Asia.
His focus on patient safety, ongoing training, and individualized patient care make Dr. Douglas one of the most sought-after plastic surgeons in Marin County, and the greater San Francisco Bay Area. Dr. Douglas is a leader in patient safety and serves on the Patient Safety Committee for the American Society for Aesthetic Plastic Surgery (ASAPS). Additionally, he volunteers his time to serve as an Oral Board Examiner for the American Board of Plastic Surgery to ensure that only the best-qualified candidates attain the coveted credential of Board-Certified Plastic Surgeon.
Dr. Douglas is on the Board of Directors for the American Society for Aesthetic Plastic Surgery (ASAPS), several committees for the American Society of Plastic Surgeons (ASPS), and the California Society of Plastic Surgeons (CSPS).
For one of the best plastic surgery experiences in the Bay Area, come see Dr. Trent Douglas at Plastic Surgery Specialists. Appointments can be made by calling 415-925-2880 or by completing this short contact form.
A Conversation With Dr. Douglas
Tell us a little bit about your background. Where did you grow up?
Growing up in a military family really teaches you that home is where your family and loved ones are. I was raised with a strong work ethic and a sense of duty to care for others first – a set of traits that lends itself very nicely to surgery. Getting to grow up in big cities and small towns was a real treat and gave me an appreciation for many different cultures and perspectives on life.
At what point did you start thinking about going to medical school?
I took a human anatomy and physiology course my sophomore year in high school and that was it. I was hooked! It is a real testament to my teacher, Mr. Matheson, that he set my career path in motion.
What attracted you to Plastic Surgery?
Plastic surgery is a combination of skill, artistry, and vision. Whether it is a reconstructive dilemma or a complex cosmetic case, the wide variety of opportunities to help patients and positively influence their lives is what makes me love every minute of being a plastic surgeon.
How did you end up coming to San Francisco?
I wasn't even considering a job change until I met the PSS team. Somehow you just know when you have met your people. San Francisco has always been one of my favorite cities and when I had the opportunity to join the amazing group at Plastic Surgery Specialists, I didn't wait to be asked twice.
How did you first meet Dr. Poulos and Dr. Hvistendahl?
Our first meeting was actually at a dinner in San Diego during the annual American Society of Plastic Surgeons meeting. We were in the early stages of exploring my joining the practice. I knew right away they were the right fit. We hit it off immediately and the rest is history.
Describe your working relationship with Dr. Poulos and Dr. Hvistendahl.
When you assemble a group of talented surgeons and kindred spirits, it is not really work. It is truly a pleasure to care for patients in an environment that thrives on uncompromising patient care, creativity, and staying on the cutting-edge of new developments in the specialty. We all enjoy a zest for life and bring this positive attitude to the office and operating room every day.
How often do you collaborate?
Lifelong learning is the key to continually getting better and evolving techniques to deliver optimal results. I collaborate with my colleagues on a daily basis and we all excel in an environment where we share knowledge and teach each other little tricks to give our patients the best and safest outcomes.
What do you think sets you apart from other plastic surgeons?
I value the relationship that I create with my patients and want them to know how much I care about them, their family, and their experience with the Plastic Surgery Specialists team. I will use all the tools at my disposal to customize a treatment plan for each patient that accounts for individual features, aesthetic goals, budget, and recovery timeline.
What about outside of work? Do you have certain hobbies or interests that you pursue?
I love the water and am an avid fisherman. I enjoy the skill of trout fishing as well as a day on a boat ocean fishing. I find a few hours of quiet reflection with a line in the water to be very refreshing and it's even better if you catch something. My son calls fishing "man yoga" and I couldn't agree more. My family loves to travel and check out new skiing destinations. We try to visit a new spot every year.