Breast Augmentation with Lift
Conveniently located to serve the areas of Marin, San Francisco, Sonoma and Napa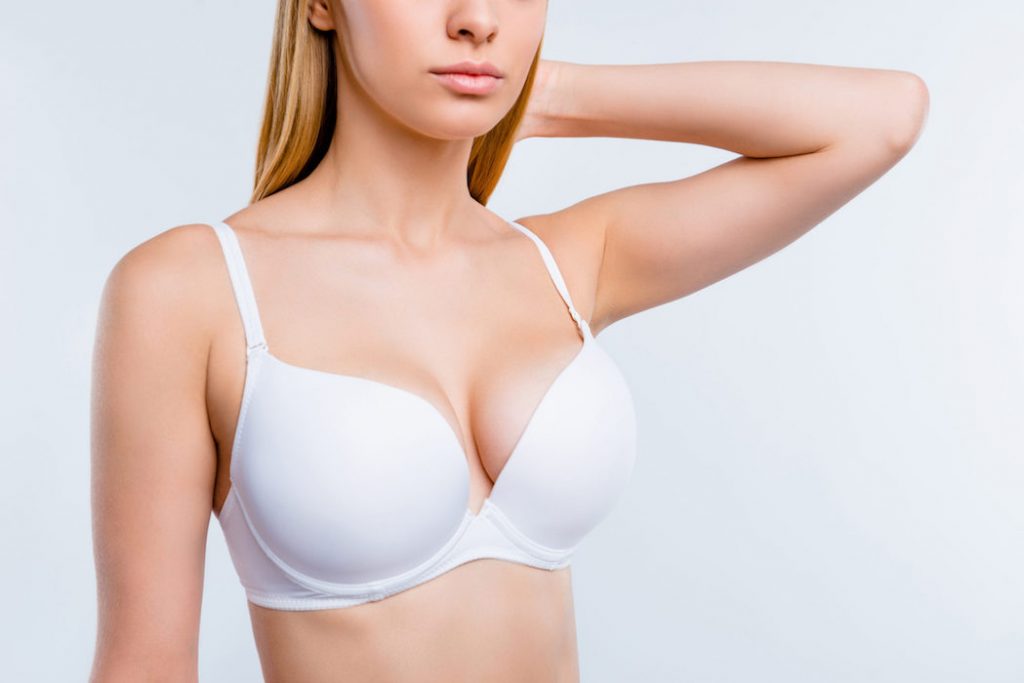 A breast augmentation with lift combines two popular procedures to add volume and improve the contour of a woman's breasts. For some women, size is only secondary to a plump, youthful pair of breasts that sits in an alluring position on the chest. Many factors can lead to breast ptosis, or sagging. They also often lead to a loss of volume in the breast tissue. If your padded push-up bras have outlived their usefulness, it may be time to consider a long-term solution. A breast augmentation with lift can restore your chest to its former glory, and even improve upon what Mother Nature originally gave you.
At Plastic Surgery Specialists in Marin County, we let men and women become the best version of themselves by helping them achieve their aesthetic goals. Dr. Poulos, Dr. Hvistendahl, and Dr. Douglas are behind the dream team at Plastic Surgery Specialists and are ready to make your desires a reality. If you're ready to get started on your journey to a gorgeous new set of curves, contact us for a consultation online, or call us at (415) 925-2880 to schedule an appointment.
Before and After Photos
Keeping Abreast of Your Chest
Weight loss, pregnancy, breastfeeding, and the normal process of aging can have devastating consequences on the appearance of a woman's breasts. Women can find that they've gradually lost the youthful shape of their breasts and that the placement of their areolas has shifted. A woman's profile goes through many changes over the course of her life. Hormonal shifts, weight fluctuations, and aging can cause a bustline to expand. This stretches the skin, supporting ligaments, and glandular components that all comprise the complex system that is the female breast. When other changes occur, they can lead to a decrease in volume, but leave the stretched parts of this feature behind. Women then experience breasts that sit lower on their chest, with a less curvaceous contour. Luckily, a breast augmentation with lift addresses all of these unfortunate effects.
About Breast Lifts
A breast lift, or mastopexy, corrects the shape of the breast by removing excess skin and restores the nipple and areola to a higher, perkier position on the breast mound. (1) This procedure can be combined with a breast augmentation, which uses either an artificial breast implant or the patient's own body fat to add dimension to their chest.
About Breast Implants
Breast augmentations remain one of the top five most popular procedures in America – even in "uncertain times." The American Society of Plastic Surgeons reported that nearly 200,000 women were in fact quite certain, and went ahead and had breast augmentations in 2020. (2)
Allergan, the maker of Botox and other popular cosmetic products, including breast implants, has awarded our practice the coveted Black Diamond level. This is because of the high frequency of procedures we perform using their premium cosmetic injections and devices. We use Natrelle implants among other gold-standard implant devices, such as Sientra and Mentor. It really is what's inside that counts. Women who choose to use implants for their breast augmentation can choose among nearly limitless sizes, shapes, projections, and cohesiveness to design the chest of their dreams.
Not every woman is keen to commit to synthetic implants. While breast augmentation with implants offers stunning results, some women want a more natural effect, without the upkeep or potential complications associated with these devices. A fat transfer breast augmentation is an excellent way to increase size and create a beautiful bosom using your body's own stores of unwanted fat. Women can lose love handles or saddlebags via liposuction, and gain a cup size or two after the fat has been processed and strategically injected into the breasts.
Candidates for a Breast Augmentation With Lift
Our patients come from Northern California and beyond to take advantage of PSS's storied skill. And, they're thrilled with their results.
Ideal candidates for a breast augmentation with lift are:
In good health
Non-smokers, or prepared to quit
Have significant ptosis
Have completed their families and breastfeeding
Are seeking to both add volume and improve the position of their breasts
Are willing to trade moderate scar lines for increased size and buoyancy
If you've been finding your bustline lacking, and are considering transforming this vital part of your femininity, contact the team at Plastic Surgery Specialists. We'll set up a personal consultation to determine whether you're a good candidate for this procedure.
Personal Consultation in Marin
Your consultation at our offices in Greenbrae is your opportunity to learn more about the breast augmentation with lift procedure and discover exactly what it can do for you. Dr. Poulos, Dr. Douglas, or Dr. Hvistendahl will be able to address any questions or concerns you may have in an honest and compassionate way. During your consultation, we'll review your medical history and examine your breasts. We'll also take measurements so that your results are custom-tailored to your anatomy. Once we understand your specific aesthetic goals, your surgeon will design a personalized treatment plan and determine the details of your procedure. You'll be given specific instructions on how to prepare for your breast augmentation with lift and the recovery process. To learn more about the other services we offer, follow our blog.
Procedure
You'll be administered general anesthesia to ensure that you are resting comfortably throughout the duration of your augmentation with lift, which typically takes about two hours. The extent of your breast ptosis and the size and method of your implant will determine the type of incisions that your surgeon will make. Breast lift techniques employ a variety of incisions that can encircle the areola to minimize the appearance of scars. Depending on the level of ptosis, these incisions may need to be extended down the center of the breast, and under the fold. (3) Your surgeon will remove the necessary tissue and insert the breast implant. Next, he will remove any excess skin and neatly suture the incisions.
If you've chosen to augment your breasts via a fat transfer, your procedure will also begin with general anesthesia. Your surgeon will perform liposuction on the designated areas to harvest the fat that will be used to augment your breasts. This fat is spun in a centrifuge to isolate the pure fat cells from other fluids present. He will make the necessary incisions to remove excess tissue and inject the purified fat into areas of the breast to create firmer, fuller, beautifully-shaped results.
Recovery
After you've come out of anesthesia and a trusted friend or family member drives you home, you'll begin the recovery process. Plan on giving yourself plenty of time to rest and recover. Every body heals at its own pace, but you will need at least a week of only light activity. You'll have special supportive garments to wear to protect your new breasts as they heal.
Women that choose to augment their breasts with a fat transfer will need to care for the healing liposuction sites as well as their newly enhanced bust. Your recovery will be monitored during several follow-up appointments. As always, the team at PSS will be here to give you all the assistance you need as you move toward your gorgeous new results.
Results
It will take several months before your implants have relaxed into place or your fat transfer has successfully made a healthy new home. By this time, your swelling will have subsided, your scars will have faded, and you'll be able to enjoy perkier and more voluptuous breasts.
How Much Does a Breast Augmentation With Lift Cost in Marin County?
One of our experienced patient coordinators will be happy to discuss the specifics of the cost of your surgery following your personal consultation.
The final cost will be based on whether your augmentation uses breast implants or fat transfer, as well as the surgical details of your breast lift. PSS seeks to accommodate each of our patients and offers convenient financing options. Keep an eye on our monthly specials for additional savings.
FAQ
What's the difference between a breast lift and a breast augmentation?
A breast lift is a surgical procedure that removes excess skin to tighten and tailor the shape of the breast. This lifts the position of the breast and the areola to a more youthful position on the chest. Breast augmentation enlarges the breast by the surgical insertion of a synthetic implant or injections of autologous fat. 
References
Ramanadham SR, Rose Johnson A. Breast Lift with and without Implant: A Synopsis and Primer for the Plastic Surgeon. Plast Reconstr Surg Glob Open. 2020;8(10):e3057. Published 2020 Oct 28. doi:10.1097/GOX.0000000000003057
American Society of Plastic Surgeons. 2020 Plastic Surgery Statistics Report. ; 2021. Accessed May 13, 2021. https://www.plasticsurgery.org/documents/News/Statistics/2020/plastic-surgery-statistics-report-2020.pdf
Gruber, R., Denkler, K. & Hvistendahl, Y. Extended Crescent Mastopexy with Augmentation. Aesth Plast Surg 30, 269–274 (2006). https://doi.org/10.1007/s00266-005-0138-5