Labiaplasty
Conveniently located to serve the areas of Marin, San Francisco, Sonoma and Napa
Labiaplasty is a cosmetic surgery performed on women with overly large or unevenly matched inner lips of the vagina that cause discomfort or embarrassment.[1] With a labiaplasty, the labia are reshaped and reduced. If you're concerned with the appearance of your labia or are suffering from irritation or discomfort from protruding labia, this procedure can restore your confidence and comfort.
Don't let anything hold you back from celebrating all the wonderful aspects of being a woman. The surgeons at Plastic Surgery Specialists have over 75 years of combined experience and have performed over 50,000 procedures. Our talented team of surgeons combines empathy with an inclusive aesthetic perspective. At our state-of-the-art clinic in Marin County, California, we're well-equipped with the latest technology and the skills to achieve your desires. Contact us today at (415) 834-9787 to schedule a personal consultation and learn more about what a labiaplasty can do for you.
About Labiaplasties in the Bay Area
There's no one like you. Every woman's vulva is different. But if your intimate areas aren't making you feel special, you are not alone, and there's help.
Labia hypertrophy is a condition where the labia minora extends beyond the labia majora. This can develop during puberty or be present from birth. Women can suffer from changes in their labia during the strain of childbirth.
Labiaplasty is specially designed to address the aesthetics and function of the vaginal area and restore feminine confidence. Excess skin is removed from the labia, creating neat, symmetrical lips that fit comfortably inside the labia majora.
Benefits of a Labiaplasty in Marin County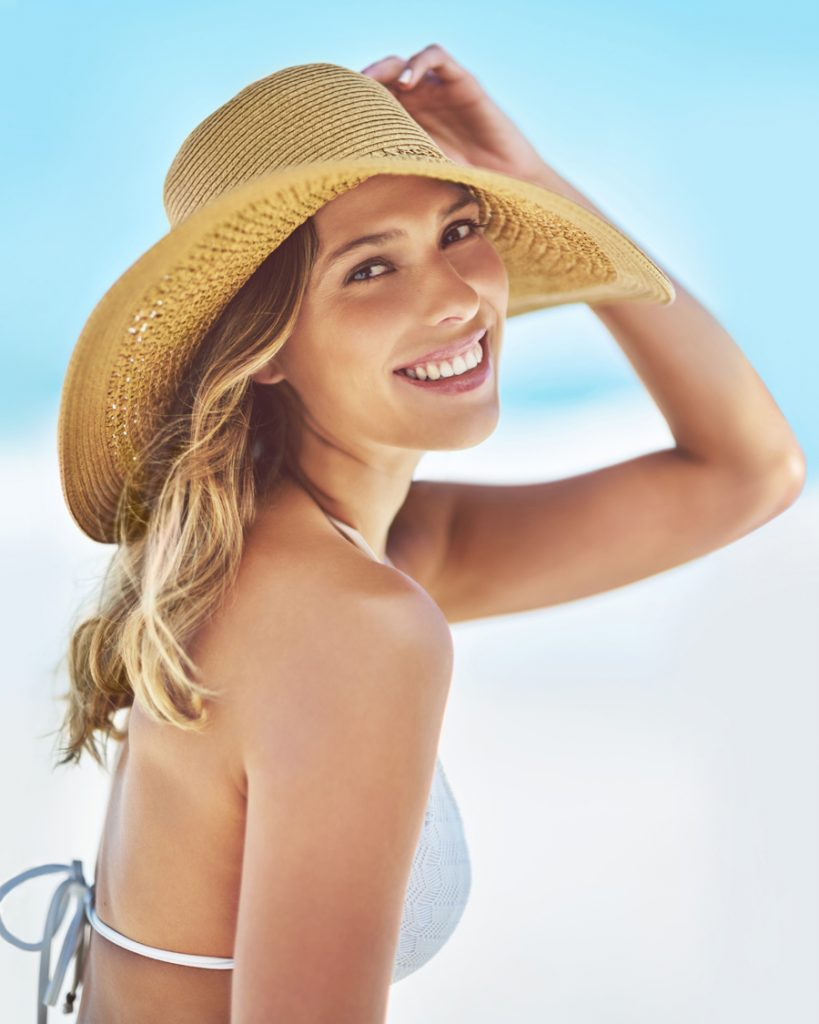 Your labiaplasty will help you to explore a new wardrobe, enjoy cycling, and invigorate your sex life. Studies have shown that labiaplasty actually increases sexual satisfaction. When their sexual activity could be safely resumed, over 44% of the surveyed women that underwent a labiaplasty reported an increase in orgasm frequency. An increase in orgasm strength was observed in over 35% of participants.[2] There certainly aren't many other procedures that come with those kinds of benefits!
Labiaplasty Candidates
Candidates for labiaplasty are women in good health who have experienced pain or irritation from labia hypertrophy, whose labia minora has torn from childbirth, or those that are unsatisfied with the appearance of their labia minora. There is no age restriction to undergo the surgery, but it is most commonly performed on women between the ages of 20 and 40 years old.
Women may pursue labiaplasty if they:
Are unhappy with the size or unevenness of their labia
Experience irritation from tight clothes
Experience discomfort during sex, sports, or other physical activities
Have unwanted coloration on the edges of their labia minora
Have frequent urinary tract infections
Feel inhibited or embarrassed in front of their sexual partners
Personal Consultation
At Plastic Surgery Specialists, our first consideration is you and your specific needs. During your consultation, we'll be able to explore and explain all of the best options for you to reach your desired potential. Your doctor will examine your vulva to determine whether you are a suitable candidate for labiaplasty and the correct surgical technique for ideal results. Your labiaplasty will be customized to your unique anatomy. It's our job to answer all your questions, and your job to share all of your previous surgeries, illnesses, and current medications before helping you make a final determination based on your goals.
We will go over the details of your procedure, aftercare, and all involved costs.
Contact us to get the conversation started. Call (415) 834-9787 to speak with one of our helpful team members. To learn more about the other services we offer, and what's new at PSS, follow our blog
How to Prepare for Your Procedure
Once you and your doctor have decided that labiaplasty is right for you, and your surgery is scheduled, it's wise to begin planning for your recovery.
Plan on taking at least a week off from work.
Make sure you are eating healthy, drinking water, and getting plenty of sleep.
Line up a friend or family member to drive you home from your procedure, and to assist with whatever you may need in the first days of your recovery.
Stock up on groceries, prescriptions, and any other items you may need during your recovery
Plan a recovery wardrobe that includes loose, breathable clothing and underwear.
Labiaplasty Procedures
Labiaplasty is a straightforward but delicate surgery. Our aim is your safety and comfort.
There are two primary labiaplasty techniques.
Trim Method
The trim method of labiaplasty involves a single incision along the edge of the labial tissue. This removes the redundant skin from the vaginal lips and corrects asymmetry. Your surgeon will ensure that your labiaplasty imparts a healthy and attractive appearance.
Wedge Method
The wedge method is slightly more complex and it has a subtly different intent. In the wedge technique, your surgeon will remove a V-shaped wedge of tissue from the labia. The edges of the incision are then sutured back together. The resulting lips are taut around the vaginal opening. This technique preserves the existing edges of the area and is ideal for women looking to maintain a more natural labia appearance. 
The technique chosen will dictate procedure length, which can range from 30 minutes to two hours. Labiaplasty can be performed with either local or general anesthesia depending on the patient's preference and the surgeon's recommendation. Your incisions will be closed with small absorbable sutures so they will not need to be removed later. A follow-up appointment will be scheduled to assess recovery and healing progress.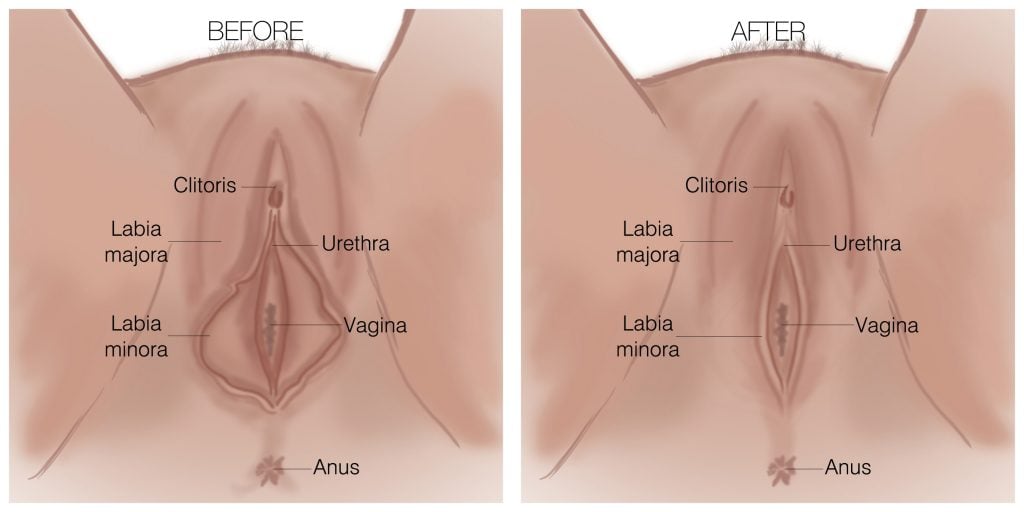 Recovery
You'll be given specific instructions as to how to care for your healing labia. As with most surgeries, some discomfort is to be expected. Your doctor will prescribe appropriate medication to alleviate pain and prevent infection. Tenderness and swelling are normal and will subside in several days, but ice packs can help reduce any discomfort in the meantime. A cream will be given to you for application for at least three days to keep the incision sites lubricated. Patients can walk immediately following their surgery, but sitting may irritate the incision site, so lying down is advised for the first recovery days. Patients may shower the day after surgery, but it is important to make sure not to disturb your stitches. Do not use pools, jacuzzis, and baths until instructed otherwise. Do not use tampons or engage in sexual activity for the first two months following surgery; these could cause the incision sites to tear.
You should notice results within two to three weeks of your procedure.
It is important that you receive adequate rest and avoid physical strain during recuperation so that your body can properly heal. Remember that the better your post-operative care, the more effective are your recovery and results. And, of course, keep all of your follow-up appointments at Plastic Surgery Specialists office, so that your doctor can monitor your progress.
How Much Does a Labiaplasty Cost in the Bay Area?
Your labia surgery will be customized to fit your needs and anatomy. As a result, the cost of a labiaplasty varies from patient to patient. PSS is pleased to offer several financing options that may remove monetary impediments from your path to embracing your femininity. 
FAQ
How do I know if I should get a labiaplasty?
If you're experiencing physical or emotional discomfort from labia minora that protrudes from your labia majora, a labiaplasty may be a suitable solution. An experienced medical professional will be able to ascertain your candidacy for this procedure.
How do you pee after a labiaplasty?
Drinking plenty of water during your recovery will ensure that your urine isn't overly acidic, and lessen stinging. Using a squirt bottle filled with water to gently spray your incisions while you urinate will also dilute your urine and make it less painful. 
How long will it take for the stitches in my new labia to dissolve?
Dissolvable sutures are usually gone 3-4 weeks after your surgery.
Will I have scarring after a labiaplasty?
As you heal, you'll notice that the scar tissue at your incision sites will become firm and then gradually soften over the next several months, until it's similar to the texture of the rest of your labia. Because the labia minora naturally has a "ruffled" texture, it is easily camouflaged.
How soon can I have sex after a labiaplasty?
 It's important to refrain from any sexual activity for at least six weeks after surgery. Any contact to the incision site could disturb the sutures, disrupt healing, and cause infection.
References
Veale, D., Naismith, I., Eshkevari, E., Ellison, N., Costa, A., Robinson, D., … Cardozo, L. (2014). Psychosexual outcome after labiaplasty: a prospective case-comparison study. International Urogynecology Journal, 25(6), 831–839. doi: 10.1007/s00192-013-2297-2
Placik, O. J., & Arkins, J. P. (2015). A Prospective Evaluation of Female External Genitalia Sensitivity to Pressure following Labia Minora Reduction and Clitoral Hood Reduction. Plastic and Reconstructive Surgery, 136(4). doi: 10.1097/prs.0000000000001573