Breast Lift
Conveniently located to serve the areas of Marin, San Francisco, Sonoma and Napa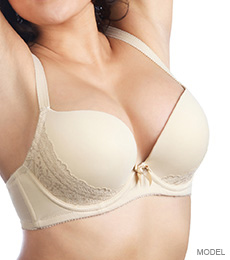 A breast lift restores a perkier position to the breasts. PSS board-certified aesthetic plastic surgeons specialize in breast lifts, often combined with augmentation, and have many years of experience in creating natural, beautiful results.
What is a Breast Lift?
A breast lift, or mastopexy, lifts and reshapes sagging breasts for a perkier, more youthful appearance. It's common for breasts to sag or droop as a result of pregnancy, breastfeeding, weight fluctuations, aging, or heredity. Breast lift surgery does not enhance the size of the breasts, but rather it lifts and reshapes them. A breast lift is often performed in conjunction with breast augmentation or a Mommy Makeover to further enhance results.
Dr. Poulos, Dr. Douglas and Dr. Hvistendahl offer the latest surgical techniques to restore their patients' breasts and their confidence.
Discover why patients visit our center of excellence for breast lift surgery from San Francisco, Napa, Santa Rosa, and beyond. We invite you to request a consultation online or call us at (415) 925-2880 to schedule an appointment.
Over

50,000

procedures performed
Over

75

years of combined experience
Our experienced team of surgeons combine an aesthetic perspective, the ability to listen closely to your needs, and the skills to achieve those desires. This combination of talent is a hallmark of a world-class plastic surgery clinic, located in Marin County, CA.
Meet Dr. HvistendahlMeet Dr. DouglasMeet Dr. Poulos
Black Diamond

Get a 3D preview of your possible results.
Learn More
Good Candidates
At our Marin County practice in Greenbrae, a breast lift procedure is appropriate for any woman in good health, and concerned about sagging breasts, clinically known as ptosis. Sagging can occur in one or both breasts and is typically due to aging, genetics, pregnancy, or significant weight loss. The nipples can be reduced in size and/or repositioned to be aesthetically proportionate to the newly lifted breasts. If you plan to have children in the future, you may want to wait to have mastopexy surgery, as your body will undergo many changes throughout and following pregnancy.

Ptosis, or sagging, can be categorized into different grades:
Grade 1 – Mild ptosis: The areola is at the level of the inframammary fold (natural crease of the breast) but breast tissue still hangs below.
Grade 2 – Moderate ptosis: The areola is below the inframammary fold but is above the lowest point of the breast.
Grade 3 – Severe ptosis: The areola is below the inframammary fold and is either at the lowest point of the breast or points down toward the ground.
Pseudoptosis: The areola is at or above the inframammary fold, but the lower portion of the breast sits below the fold.
Breast Lift Techniques
There are 4 different techniques that our surgeons at PSS use; the one used for you will depend on your specific case and the outcome your desire.
Periareolar Lift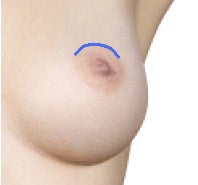 The Periareolar Lift is a technique used for women who only have minimal sagging to address. Your surgeon will make a half-circle incision around the top of your areola to lift the breast. This technique leaves the least amount of scarring since it utilizes the smallest incision of the 4 techniques and it naturally blends in with the border between the breast and the areola. Typically, this incision is used when the lift is paired with breast augmentation.
Circumareolar Lift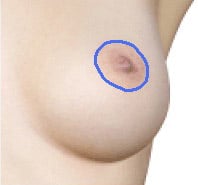 The Circumareolar Lift, otherwise known as the Donut Lift, utilizes a circular incision around the entire border of the areola. This too is designed for women with minimal sagging, but in addition to lifting the breast, this technique gives the surgeon the opportunity to reduce the size of the areola as well. The Circumareolar Lift can be paired with breast augmentation or a breast reduction if you desire more aesthetic change.
Vertical Lift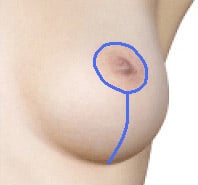 The Vertical Lift is also referred to as the Lollipop Lift since the incision used is much like the shape of a lollipop. The first incision is made around the circumference of the areola, followed by an incision that runs from the base of the areola to the base of the breast. This technique provides a more substantial lift than the 2 aforementioned techniques. The additional incision allows your surgeon to remove more skin and tissue, reshaping the breasts to appear more lifted and perky.
Anchor Lift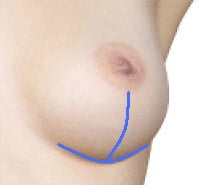 The Anchor Lift is designed specifically for women with significant sagging. This technique utilizes 3 incisions; the first and second incisions are the same as the Vertical Lift, but an additional third incision is made along the natural crease of the breast. The anchor pattern allows your surgeon to remove even more tissue and skin as necessary, lifting your breasts to a more youthful position. This is the traditional incision pattern for breast lifts and breast reductions. It maximizes the surgeon's ability to reshape the breast. The scars take about 9-12 months to fully mature and will fade over time with consistent care. PSS offers a number of devices and products to minimize scarring.
Before and After Photos
Consultation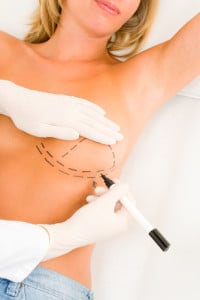 During your private consultation with one of our breast lift specialists, Dr. Poulos, Dr. Douglas, or Dr. Hvistendahl, you'll be able to share your dissatisfaction in detail with the doctors regarding the look and feel of your breasts, and what you hope to achieve as an outcome. The doctor will examine you to determine which breast lift technique is best for you. He will explain each technique in full detail so you are able to make an informed decision with your surgeon's guidance. Questions are highly encouraged; an open line of communication between patient and surgeon is key to providing and receiving optimal results. Pricing quotes will be given at this time, as well as preoperative and postoperative instructions.
Preparation
Complete specific medical tests and evaluations assigned by your surgeon.
Refrain from smoking, drinking alcohol, and taking anti-inflammatory medications 3 weeks prior to your procedure.
Pick up all prescriptions so you have them readily available.
Arrange postoperative transportation since you cannot drive yourself. We recommend having this person stay overnight with you to help with your first night of recovery.
Individual instructions may be given for your specific case.
The Procedure
Mastopexy surgery is performed under general anesthesia on an outpatient basis. Depending on the extent of your specific case and whether you opt to undergo additional procedures, mastopexy takes approximately 2 to 3 hours.
During a mastopexy, our surgeons remove excess skin and tighten the remaining skin, improving the overall shape of the breasts and lifting them into a more youthful position. Minor, moderate, and severe sagging each requires corresponding lifting methods. The Periareolar Lift and Circumareolar Lift are minimally invasive and require only small incisions above or around the areola respectively. The Vertical Lift is slightly more invasive and requires an incision that extends around the top of the areola and down the breast midline. The Anchor technique requires an anchor-shaped incision around the top of the areola and across the lower portion of the breast. While more invasive, the Anchor technique has the greatest lift potential.
Recovery
Although you may feel well enough to return to work after a week, you should avoid strenuous activity for 3 or 4 weeks. You will be able to see the results of your breast lift procedure within a few months following surgery. Your breasts will look and feel youthful again. Incision scars will fade over time, usually in about a year. Mastopexy results can be long-lasting for those who watch their weight and maintain a healthy lifestyle.
After your procedure is complete, your surgeon applies dressings and bandages to the incision sites. You will wear a support bra to minimize swelling by preventing fluid buildup and to support your breasts as they heal. A small, thin tube may be necessary to drain any excess blood or fluid collecting after the procedure. Bandages and any tubing can be removed after a couple of days. Stitches may stay in place for a week or two.
For further details on how breast lift surgery is performed, please visit our Education Center. You can also learn about common complementary procedures, including breast augmentation, breast reduction, and Mommy Makeover surgeries.
Cost
The cost of your breast lift varies with the specifics of each individual's procedure. Factors include whether you are combining your breast lift with any other procedures, which surgical techniques are used, and so on. Our team will discuss a detailed plan and quote with you during your consultation. We are also happy to provide health care financing options that help all our patients meet their cosmetic goals on their terms.
FAQs
How do I know if I need a breast lift or augmentation?
A breast lift addresses sagging but not size, so is best for women who are happy with the size of their breasts. Breast augmentation increases the size of the breasts and does not correct sagging. Many women, particularly those who have had children or lost a lot of weight, find that they can benefit from both procedures. Our surgeons have many years of experience combining these 2 approaches into a single procedure that both lifts and enlarges the breasts.
Will I have noticeable scars?
No matter which incision your surgeon uses, he employs precise techniques to keep your scar as small and fine as possible. We provide you with detailed aftercare instructions to ensure that your incisions heal quickly and beautifully, and we can also recommend products and services to help fade your scars. The vast majority of our patients say that within a year, their scars are nearly invisible.
How long will my results last?
The results of a breast lift can last many years. Of course, aging does cause our skin to become more lax over time, and no procedure can completely halt that process. However, you can maintain your results for decades if you don't change weight significantly.
Will I still be able to breastfeed after a breast lift?
Although we can use an incision that bypasses the ducts and glands involved in breastfeeding, we usually recommend that our patients finish having children before undergoing a breast lift because pregnancy-related changes may affect the cosmetic results. We are happy to discuss your family plans with you during your consultation and work out a timeline that meets all your goals.
How to Find Us
Plastic Surgery Specialists is known throughout the Bay Area for our excellence and expertise. Choose your area below to get accurate, easy-to-follow directions to our center.
Latest Breast Lift Posts From Our Blog
One of the most common questions that comes up in the office is, "Do I need a breast lift, or should I get breast implants?" In this blog, we will investigate the answers to this ...

Read More

You've probably heard recently that Modern Family star Ariel Winter had cosmetic surgery. The 17 year old star decided to undergo a breast reduction surgery."I was 15 years old with ," Winter told ...

Read More