Cellulaze
Conveniently located to serve the areas of Marin, San Francisco, Sonoma and Napa

Hot weather means time to show some skin; however, some may be reluctant to grab those short shorts from the back of the closet or sport a bikini because of their cellulite.
Hesitate no more. Introducing Cellulaze! A revolutionary cellulite removal treatment that gets rid of skin dimples.
What Is Cellulite?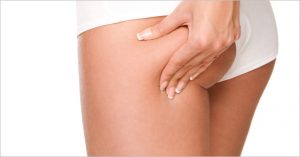 Adiposis edematosa, or cellulite, is a skin condition where connective fibers pull down on the skin and created a dimpled appearance. This occurs when fat deposits grow in size and push skin outward, but the underlying connective fibers to not stretch with the skin. Because of this, depressed areas appear on the skin from the pulling of the connective fibers, giving a "cottage cheese" or "orange peel" look to the skin.
Cellulite can be classified into 3 different categories:
Level 1: Anatomical changes are detected by microscopic examination, but there are no clinical symptoms.
Level 2: Anatomical changes are detected by microscopic examination and in low temperatures on those with pasty skin.
Level 3: Level 2 symptoms accompanied by visible roughness.
Cellulite is often caused by hormones, genetics, slow metabolism, lack of physical activity, and/or thickness of skin. Cellulite can also worsen with age as the body produces less and less estrogen, and poor circulation which can lead to a decrease in collagen production.
It is often believed that only larger women get cellulite, when in fact women of all shapes and sizes can get cellulite. Yes, the more fat you have the more stress in placed on connective fibers which creates more noticeable cellulite, but even the leanest of woman can have cellulite depressions that diet or working out cannot get rid of. Extensive exercise can diminish the appearance of cellulite, but it will never get rid of it since it is caused by an underlying condition.
What Is Cellulaze?
The treatment results in an improvement in most cases that was not possible before the introduction of Cellulaze.
Cellulaze body contouring, available for our Marin, Napa, and Sonoma County patients, is the first and only cellulite laser treatment that is backed by extensive clinical data showing results lasting up to a year. The device's 1,440nm laser fiber has a triple effect on damaged skin: detaching the fibrous bands beneath the skin that cause depressions, removing the pouch of skin that surrounds the area, and finally heating the subdermal layer to cause increased collagen production. The treatment is often done in one sitting with visible improvement appearing within days.
Areas Treated
Cellfina cellulite removal treatment is FDA approved to get rid of cellulite on the:
Buttocks
Upper thighs
Lower thighs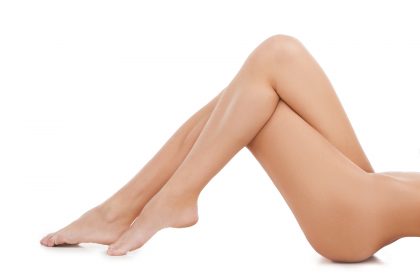 How Cellulaze Works
Cellfina is a small handheld device which uses a 1,440nm laser fiber to break the connective tissue bands that contribute to cellulite and heat the subdermal layer of skin to increase production of collagen and smooth the skin. This is done with just a few microscopic incision in the skin for the cannula to reach the connective fibers. The Cellulaze laser fiber then releases the fibrous bands pulling on the skin, while simultaneously treating the skin to make it firm and smooth. This process can be compared to the stretching of a rubber band, and when it gets released it goes back to its relaxed state.
Cellulaze vs. "Cellulite Removing" Creams & Serums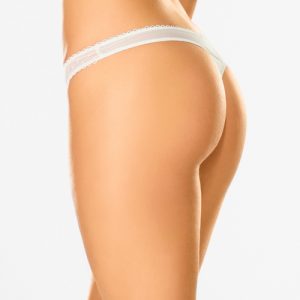 Some creams on the market claim to get rid of cellulite, which is impossible. No creams have been tested and proven to get rid of cellulite. Retinol has been tested to temporarily relieve cellulite depressions, but this only masks the symptom. A good comparison is spreading frosting over a lumpy cake; this briefly masks the issue. Caffeine and green tea products also have little evidence backing up their claims. The only way to actually get rid of cellulite is to address the connective fibers which no topical cream can accomplish, prescription or over-the-counter.
Best Candidates
Cellulaze is a treatment for patients with a specific skin condition called cellulite. Cellulite is a condition that plagues a very high percentage of women. It is only present in women since women's connective fiber pattern runs vertically, while men's connective fiber pattern lies flat over the muscle, so they cannot pull down on the skin unlike the vertical fibers.
Cellulite is a specific condition characterized by contracted fibrous septae causing bunching and dimpling of the skin with protruding pockets that create a "cottage cheese" appearance. It is different from lax skin, which requires an excisional procedure to correct. Some patients may be candidates for Smartlipo™ as well, which is usually done in a separate stage.
Consultation
During your one-on-one consultation with one of our PSS Cellulaze specialists, you will have the opportunity to explain your aesthetic concerns and your desired outcome. Your surgeon will perform a detailed examination of the problem areas while you are in a standing position with your muscles relaxed so he can examine each depression precisely and accurately. This examination is important in order for your surgeon to be able to assess the perfect personalized treatment plan for your specific condition and treatment areas. Please mention past surgeries and medical history as this may alter the treatment plan.
The procedure will be explained fully so you are aware of each step of the process; we want to make sure you are comfortable with your decision. The only preparation needed before your Cellulaze treatment at Plastic Surgery Specialists is discontinuing herbal supplements and anti-inflammatory medications 2 weeks before your procedure date. Any further personalized instructions given to you for your specific case should be followed to ensure optimal results.
Over

50,000

procedures performed
Over

75

years of combined experience
Our experienced team of surgeons combine an aesthetic perspective, the ability to listen closely to your needs, and the skills to achieve those desires. This combination of talent is a hallmark of a world-class plastic surgery clinic, located in Marin County, CA.
Meet Dr. HvistendahlMeet Dr. DouglasMeet Dr. Poulos
Black Diamond

Get a 3D preview of your possible results.
Learn More
Smartlipo uses laser technology to permanently destroy unwanted fat cells, tighten tissue and improve overall bodyshape – all with minimal downtime.
Learn More
The Procedure
Your surgeon first marks a patient's skin on the areas to be treated. Then the surgeon injects a local anesthetic and wetting solution to the cellulite and inserts the 1,440 nm laser fiber. The high points are lasered away while the unique side-cutting laser removes the contracted fibrous bands responsible for the cellulite. Finally, the subdermal region is treated for increased collagen production.
Cellulaze treatments can release up to 25 cellulite dimples in a single session.
No suctioning of the lasered area is required. The procedure usually takes about 1-2 hours with minimal to no discomfort and bruising. Gauze pads are then placed on the treatment area after the procedure with a compression garment or bandaging.
Recovery
After a Cellulaze cellulite treatment in Marin County, there is some drainage of residual fluid for 24 hours, followed by a rapid return to normal activities. Initial improvement may be noted in 1 to 4 weeks, with increased collagen thickening providing enhanced results after about 3 to 4 months. Compression garments may be worn for comfort, and most patients return to work within a few days depending on the size of the treated area.
Patients interested in Cellulaze may also consider liposuction or other body contouring procedures. If you are considering Cellulaze and live in Greenbrae, Larkspur, Corte Madera, Mill Valley, Santa Rosa, San Rafael, Novato or surrounding areas, please schedule a consultation with Plastic Surgery Specialists today. Contact us at (415) 925-2880 or schedule a consultation online.
Cost
The cost of your Cellulaze treatment is dependent on your specific case, how many areas are treated, and the size of the treatment areas. Additional body contouring or procedures will change the price as well. For a personalized quote, please schedule a consultation online or give us a call at (415) 687-5087 and begin your journey to beautifully smooth skin.
FAQ
What are the side effects?
Mild bruising, discomfort, numbness, and swelling, all of which resolve within 2 to 3 months.
Can it be done under local anesthesia?
Yes, a major benefit is the ability to safely and effectively treat cellulite under local anesthesia with a quick recovery.
Can the procedure be repeated for different areas?
Yes. It is often best to limit the time of treatment to 1 to 2 hours. If there are multiple areas of concern, they can be addressed later to allow for a quick return to normal activities.
Will Cellulaze completely erase my cellulite?
In studies, 93% of patients have shown significant improvement. Complete resolution of such a complex problem will not occur in every case.
How to Find Us
Plastic Surgery Specialists is known throughout the Bay Area for our excellence and expertise. Choose your area below to get accurate, easy-to-follow directions to our center.