Post Weight Loss
Conveniently located to serve the areas of Marin, San Francisco, Sonoma and Napa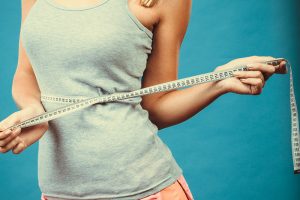 Weight Loss Surgery refers to any procedure which alters the stomach or digestive tract to minimize caloric intake, often leading to dramatic weight loss of as much as one-hundred pounds or more.
Common bariatric procedures include surgically reducing the size of the stomach, or placing a silicone band around the gut (called lap-band surgery), or inserting a saline-filled balloon in the stomach to reduce the stomach capacity. Gastric weight loss balloons like the Orbera gastric balloon have grown in popularity as a minimally-invasive solution for patients to reach their goal weight and take control of their health.
While significant weight loss has benefits too numerous to count, there are consequences to the change in your body shape.
The chief consequence is excess skin and flaps of tissue, which becomes frustrating for those who've worked so hard to reshape their body. Post-Weight Loss Surgery can help remove excess skin and reveal your natural contours. You've worked hard to lose significant weight, and you deserve to show it off.
Julia McNamara, our Weight Loss Patient Coordinator, will provide you with exceptional care throughout the entire process, as we combine the Orbera gastric balloon with our Health and Wellness program to create one of the most successful weight loss programs in the country at Plastic Surgery Specialists (PSS)
Support and individualized care are key to permanent weight loss. Our Weight Loss Coach Cameron believes in a highly individualized program because patients need a lifelong, sustainable lifestyle rather than a diet plan. A thorough assessment of both the physical and emotional starting point for our patients creates a high success rate for long-term better health.
When you decide on a surgical option, be assured of the quality and privacy of our facility. We have a 6,000-square-foot medical center in Marin County, equipped with state-of-the-art technology.
We employ a highly-skilled medical staff to ensure the best possible outcomes with the Orbera gastric balloon and the results speak for themselves.
Dr. Poulos, Dr. Douglas and Dr. Hvistendahl together can count over 50,000 procedures performed and over 75 years of combined experience, making them expertly qualified for your post-weight loss surgery needs. The doctors pride themselves on listening closely to your needs and have the experience and expertise to achieve those desires. This combination of talent is a hallmark of our world-class plastic surgery clinic, located in Marin County, CA.
Post Weight Loss Reconstruction Surgery With PSS
Nearly all massive weight loss patients end up having excess skin. Plastic surgery can provide these patients with the full rewards they deserve following their dramatic life change. We offer Post Weight Loss Surgery patients the benefit of a full program developed to meet their unique needs. Post Weight Loss Reconstruction programs can focus on one surgery and address several regions of the body (and therefore allowing for one recovery period) or multiple surgeries, each addressing one region of the body, over a period of time.
Benefits of Post Weight Loss Surgery
The main benefit of Post Weight Loss Surgery is that it will improve your appearance and restore comfortable mobility.
Excess skin folds can create irritation and cause some patients to become self-conscious. Clothes that now fit comfortably and show off your weight loss and svelte new shape may not do you justice because of excess skin and tissue.
At PSS, we want you feeling your best and are here to help you with your weight loss journey. The primary benefit of Post Weight Loss Surgery is physical but the procedure will greatly impact your mental health and daily life. We know the importance of weight loss transformation, and for patients who go through our Weight Loss program we offer a discount for surgery to help correct the problem of extra skin.
Best Candidate For Post Weight Loss Surgery
Post Weight Loss Reconstruction Surgery patients should have attained a stable weight that is appropriate for their bone structure before undergoing Reconstructive Surgery. They should be in good health and have reasonable expectations about Post Weight Loss Reconstruction Surgery results. To learn if this procedure is right for you, you will want to schedule a personal consultation with one of our highly-trained surgeons.
Personal Consultation
You will have a private consultation with one of our experienced doctors. The most commonly-needed procedure is a body lift. They will listen attentively as you discuss your concerns and explain the procedure in detail. Your surgeon will ask about your medical history and general health to gauge whether a body lift or other body contouring procedure is a good option for you.
A physical examination will help your doctor better understand how to strategize your procedure. The examination will include photographs and measurements.
Once you and your cosmetic surgeon have developed a treatment plan that addresses your concerns, they will walk you through the procedure, potential risks, and expected outcome. We encourage our patients to ask lots of questions and voice any concerns. We strive to inform our patients and help them feel confident in their decision.
Post Weight Loss Surgery Procedures
You will be presented with four options for Post Weight Loss Surgery. These will include an upper body lift, mid-body lift, lower body lift, and total body lift. Each lift will target a specific area and reduce extra skin. The result will be a slimmer, smoother body.
Upper Body Lift
An upper body lift reduces excess skin on the breasts, back, and arms. This procedure will reduce irregularities and help you regain smooth, natural contours.
Mid-Body Lift
A torsoplasty surgery, or mid-body lift, reduces excess tissue in the thighs, hips, and buttocks. This procedure helps to smooth out the transition from the upper body to the lower body.
Lower Body Lift
A lower body lift, or belt lipectomy, is the most commonly performed surgery and includes an inner thigh lift, outer thigh lift, butt lift and smoothing of the hips. This procedure will help reduce excess skin and return the attractive contours of the buttocks and hips to the patient's form. This is a popular procedure for women who have undergone pregnancy.
A total body lift is a combination of all the above treatments to provide you with a comprehensive change in your appearance.
Preparation
To best prepare for your procedure, you will want to follow the instructions given to you in your personal consultation.We recommend creating a recovery space for yourself that includes extra pillows, blankets, snacks, medications and water all within arms reach. You will need to arrange for rides and people to assist you in the first few days of recovery.
It's important to continue your healthy lifestyle in the weeks leading up to your appointment. Avoid fluctuations in weight, don't smoke and avoid heavy drinking. You will want to remain healthy so as to ensure a healthy procedure and recovery.
Twelve hours before your appointment you will need to stop eating and drinking, except for water. Lastly, be sure to take off a few weeks from work to ensure you have adequate time to rest and heal.
The Procedure
The function of Post Weight Loss Surgery is to eliminate the excess skin that most Weight Loss Surgery patients experience after they have lost so much weight.
Even after surgery, some patients may still have pockets of fat in certain areas. For this reason, Liposuction is a big part of most Post Weight Loss Surgery Reconstruction Programs. Reconstruction following weight loss can also include Tummy Tuck, Breast Reduction or Gynecomastia Surgery, and even Neck or Facelift. This may sound overwhelming, but working with PSS will ensure that you have only the surgeries you need and that the ones that can overlap, such as Tummy Tuck and Body Lift, are performed as one surgery. How much Reconstruction Surgery you actually require will depend a lot on your age, your skin's elasticity, and other factors.
Recovery & Results
Following the procedure, your treatment areas will be swollen, bruised and sensitive. Any discomfort can be controlled with prescribed medications from your doctor.
Drains may have been placed in existing incisions to help remove excess fluids. These drains will appear as thin, hollow tubes and will be connected to a receptacle. The PSS staff will inform you how to empty the drains and will remove them within a few days of your surgery at a follow-up visit. Follow-up appointments will help your surgeon monitor your health and ensure you are healing well.
Incision sites will be closed with sutures. Bandages will be applied to the treatment sites and compression garments may need to be worn throughout the recovery period to help minimize swelling and adjust your body to its new contours.
You will immediately notice an improvement in your body. Your whole frame and profile will have been transformed. It will take a few months for your final results to set in but these results will be long-lasting and with a healthy, active lifestyle will remain consistent.
Cost
Body lift procedures are highly personalized. The costs will vary greatly between patients because they are based on many variants. To learn more about your customized Post Weight Loss Surgery, schedule a consultation with one of our expert surgeons. You can contact us at (415) 925-2880.
Visitors who searched for Post Weight Loss Reconstruction Surgery may also want to search Body Contouring.
FAQs
Do Plastic Surgeons Perform This Surgery?
Typically these procedures are performed by specially-trained general surgeons. Plastic Surgeons become involved in the Post Weight Loss Surgery stages after the weight loss has occurred and a stable weight has been achieved. Plastic surgery is then required in order to reshape the body. Weight loss changes can also affect the face and neck, chest, abdomen, back, buttocks, and legs.
What Type of Procedure Corrects These Changes After Weight Loss?
In each case, a procedure is individually-designed to achieve an optimal result. In some cases, it may not be possible to correct all areas in one operation. The most important consideration is safety. The benefits of a single-stage procedure must be weighed against the operative time involved. At Plastic Surgery Specialists, we perform these surgeries as a team with two surgeons and two assistants. This allows a much faster operation with fewer complications. It is very common to perform a breast lift with implants, tummy tuck or circumferential body lift and even facial procedures during one operation.
How Long is the Recovery?
It depends on the procedure, but it is usually one month for the more complicated operations and, of course, at least a year for maturation of the scars. Most patients who have lost a massive amount of weight will require more than one operation to achieve an optimal result, as the skin elasticity is poor and touch-ups are the rule rather than the exception.
How to Find Us
Plastic Surgery Specialists is known throughout the Bay Area for our excellence and expertise. Choose your area below to get accurate, easy-to-follow directions to our center.