Creating Long-Term Results
Conveniently located to serve the areas of Marin, San Francisco, Sonoma and Napa
What makes the difference between a diet and a lifestyle? One is temporary, the other is a lifetime of benefits.
Why is the PSS Program Different?
Our mission as a practice is to change the lives of our patients by helping them enhance their outer beauty and ultimately enrich their lives because they FEEL better about themselves. When working with our patients who enter the PSS Health and Wellness program, part of that mission is to help them learn the lessons that go into making a lifestyle change rather than simply following a diet.
If you choose surgery for trouble spots, or abdominal wall tightening post-babies, the results will look better. We see more and more studies that show calorie counting is not effective. We have always believed this to be true here at PSS. We work with you, not in creating a restrictive diet, but rather, create a diet that substitutes better food choices. With our meal plans, you are never hungry. It is a program designed to help you decide how to "Choose this, not that" until eventually, your diet is in line with what results in optimal overall health and a healthy weight, including the proper muscle mass to body fat ratio.
Your overall health is elevated resulting in a new you— in the way you look and the way you feel. The long-term effects are even more critical because lean muscle mass is a fat burning tool that will change your metabolism and support your joints and ligaments.
As we age, we need to ensure we sustain our long-term mobility and keep moving; a key to anti-aging and essential to all of us. Lean muscle mass will prevent the injuries that come as we age. Our joints will be better supported, and our movements more effortless. An interesting fact about building muscle; it weighs more than fat, so your scale read the same weight. But your clothes will be looser, your waistband more comfortable, pants baggier.
A trainer once demonstrated the principle as she stood in front of the class, a size 2 with a sculpted body, and said "I used to weigh 120 lbs. and was a size 12. Guess what my weight is now? 120 lbs." There was an audible gasp in the room. We can prove this to you on our INBODY 570. We have the only one in the Bay Area.
Re-thinking Your Mind-Body Connection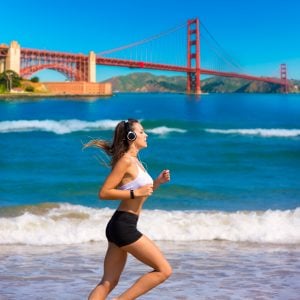 Weight loss is a journey of reconnecting with your body on many levels. When you realize the scale is a guide, but your energy, your strength, your healthy eating and how you feel is just as vital a guide.
If you allow the number on the scale to discourage you, you may be missing the point. Do you feel better? Do you look tighter? Do you have more energy? Eventually, as you lose more fat, the scale will show your weight loss.
But remember to trust your trainer, trust your efforts to get healthy with the right, long-term, life-lasting method. The benefits are enormous and incalculable.
What is Included in the Health And Wellness Program?
Pharmaceutical help with appetite suppressants where appropriate
Gastric Balloon Technology where appropriate
Unlimited access to nutritionist (emotional and educational support)
Mobile App to help on the go
Unlimited InBody scans to track progress
Healthy lifestyle coaching
Plan targeting fat loss while gaining muscle mass
May include male hormone replacement
10% off any aesthetic procedure including surgery, injections, and lasers for one year upon completion of the program
How to Find Us
Plastic Surgery Specialists is known throughout the Bay Area for our excellence and expertise. Choose your area below to get accurate, easy-to-follow directions to our center.