Ever heard of the "lunchtime lift"?
This cutesy nickname is given to mini facelifts that can, in theory, be performed during a lunch break from work.
In our busy modern world, we're lucky enough that we can add cosmetic procedures to the list of things that can be accomplished in an hour.
Wondering if these hour-long procedures really deliver results? Curious about exactly which procedures are the quickest and the most effective? Interested in discovering whether non-surgical options (devices, creams, facials and lasers) truly give facelift-like results?
We have the answers.
Non-Surgical Options
Botox has long been a mainstay of non-invasive wrinkle and frown reduction. When combined with appropriate fillers this is often referred to as the "liquid lift" and when skillfully done can take away years in just a few minutes.
It's not permanent, however, and requires maintenance for optimal effect, but it's the perfect, quick pick-me-up.
Newer fillers of varying thickness and duration of action have added to the surgeon's arsenal of options.
Laser resurfacing used to mean prolonged recovery and risk of pigmentation problems or even scarring. Today we have minimal downtime laser procedures that can improve a complexion overnight with no more than temporary redness as a tradeoff.
Radiofrequency devices such as the Venus Legacy and Viva treatments are another option with big results for minimal time. Brown and red spots, fine line wrinkling, lip lines and even acne scarring can be addressed with great improvement to complexion.
Don't expect a surgical facelift to improve wrinkles, folds or fine age spots – these are surface-layer imperfections that need to be addressed with different treatments.
As such, patients may choose to follow up their surgical facelift with gradual skin-resurfacing, Botox or filler treatments.
If you're interested in combining your facelift surgery with some type of surface repair, ask your surgeon about a chemical peel and consider scheduling subsequent appointments for Botox (to improve the look of deep wrinkles and sun damage) and filler (to add volume to the cheeks/lips).
Many of these non-surgical options can be completed between 10 minutes to one hour, depending on the procedure.
Mini Facelifts
For those with a little more recovery time, mini facelifts can provide similar improvements to the classic facelift with far less downtime.
The actual procedure names can vary. One popular option around our office is QuickLift™. This procedure tightens the skin of the lower face and neck as an alternative to a traditional facelift.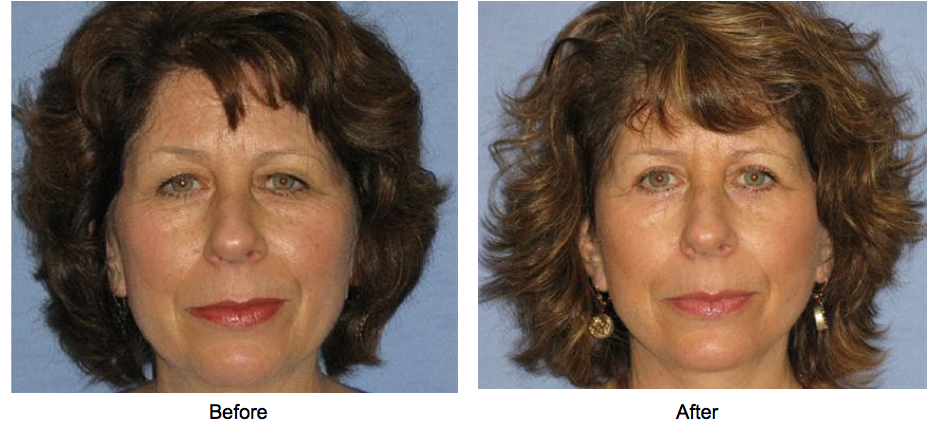 Unlike other facelift procedures with similar names (and other mini facelifts that tighten only the skin) a QuickLift suspends the underlying structures of the lower face. This is usually the first area to show the signs of aging.
A true, traditional facelift results in a natural looking and dramatic improvement to your overall facial appearance. Today's specialists reposition the deep structures of the face for amazing and long-lasting results, with patients looking five to 15 years younger (for up to 10 years!).
A successful surgical facelift targets the deep-down structures of the face to:
tighten and lift the jowls and jaw line;
lift and tighten loose skin in the neck;
improve/sharpen the neck angle; and
lift structures of the face, like cheeks, that have fallen by repositioning them to where they were before.
A true, traditional facelift can have a recovery time of three weeks. No way anyone can go out on a lunch break, get one, and return to the office after!
While the QuickLift™ is conservative when compared to a traditional facelift, it still has the capability to take five to ten years off one's appearance.
And, true to its name, the procedure is quick! The procedure takes a couple of hours, recovery is a few days to a few weeks and the cost is often significantly less than traditional operations. Interestingly studies have shown that length of results do not necessarily correlate to invasiveness of the surgery in the hands of an experienced surgeon. Bigger is not always better.
Many choose to get the QuickLift™ on a Friday after work, so they can keep some mystery about their new look. Minor bruising can possibly occur and taking a weekend before unveiling the new look keeps friends and colleagues guessing at the youthful, rested, post-op appearance.
The procedure is straight-forward.
Tiny incisions are made along the sideburn area and under and behind the earlobe, ensuring that scarring (which fades eventually) won't be noticed. A special suturing technique further minimizes the potential for scarring. Yet this minimal scoring is enough to tighten the jowls, smooth out the skin at the neck, reduce laugh lines, and tighten the skin of the cheeks.
Excess skin is removed during the QuickLift™ procedure. Other procedures, such as the insertion of Cheek and Chin Implants, can be performed at the same time.
CoolSculpting®
CoolSculpting® is a process that takes advantage of the fact that fat has a slightly lower freezing point than water. The applicator uses vacuum pressure to freeze fat cells which are eliminated naturally by your body. You'll feel a cold sensation for the first five minutes, then go numb.
Each cycle takes 60 minutes.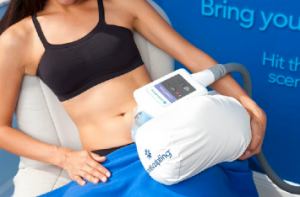 What are the most common areas to be treated?
The upper and lower abdomen
Muffin top
Waist
Bra fat
Back fat
Love handles
And for many moms any areas affected from pregnancy
Many report seeing changes in as little as 3 to 4 weeks, but the full benefit may take as long as 60 to 90 days.
While some cosmetic treatments give instant results, when it comes to CoolSculpting®, you'll need to give your body time to flush the fat from your system.
Many use Venus Legacy with the treatment, another non-surgical option, as well.
The Venus Legacy tightens and tones the skin by combining pulsed magnetic fields and radio frequency to penetrate all three layers of skin—epidermis, dermis and hypodermis.
The treatments improve the flow of blood, and encourage the formation of new blood vessels, which in turn stimulate the production of collagen and elastin fibers.
Like CoolSculpting®, to see drastic results then multiple sessions of the procedure might be needed.
It might take longer to see results for a the overall fat-flushing process but it's a great, quick procedure with no downtime.
Take an hour from each week to go and before you know it, you'll have the fitter, slimmer shape you desire.
Conclusion
If you're interested in pursuing a surgical facelift, a non-surgical option, a QuickLift™ option, or another quick procedure, it's critical to see a specialist who is an expert in the field.
While choosing the wrong procedure isn't often dangerous, it can be a big waste of time and money. A specialist will be able to recommend the types of treatments to best achieve your goals and manage your expectations properly about the recovery period.
Next time you have an hour to spare, consider taking a little me-time and getting started with a quick cosmetic procedure.
Let us know how you pamper yourself during lunch! Would you try any of these quick procedures?