MediThread
Conveniently located to serve the areas of Marin, San Francisco, Sonoma and Napa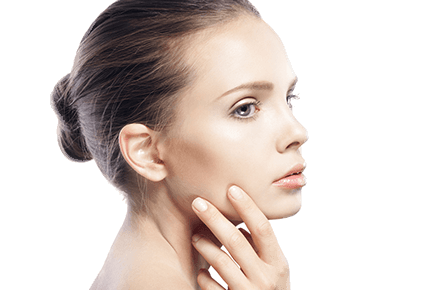 As you look in the mirror and push your cheeks upward to tighten your jowls and wonder why that can't be done magically with invisible threads? MediThread was developed and tested by a team of engineers, and physicians, including surgeons, dermatologists, medical researchers, and university centers to address that very dream. These suspension threads lift areas that are difficult to tighten by any other means except surgery.
What is MediThread?
MediThread is the newest kid on the block for combatting laxity, skin texture and wrinkles. The procedure is safe and effective, and can achieve results that filler, neurotoxins and other skin solutions just can't match. Not only does MediThread lift and tighten skin, but as the thread(s) dissolves, it causes the body to create more of what the skin needs to stay youthful: collagen and elastin proteins.
Benefits
Suspension threads lift areas that are difficult to tighten by any other means except surgery
The composition of the thread and its insertion draw hyaluronic acid to the area, hydrating the skin
Threads are fully reabsorbed within 4 months and don't create any scar tissue
Threads stimulate collagen production and the structure created by the threads can hold up to 18 months
Threads are inserted in the tissue parallel to the surface of the skin, remaining there to act as scaffolding
The PDF thread endogenous stimulation can last up to 18 months
There is a low inflammatory reaction, and they are well-known in pediatric cardiac surgery
Why MediThread?
There are a number of choices available today to combat wrinkles, skin texture, and laxity. To truly lift the neck, the gold standard is still a neck lift. But if you would like results with little or no downtime, there are other options. We use filler to increase volume in certain areas to lift the lax skin underneath a particular area. Cheeks and jowls are a good example of this application. If volume will not achieve the desired results, MediThread is an option. These threads are woven to criss-cross the area and lift the skin. They can be used to lift the neck when barbed threads are chosen. They can even lift the tip of the nose to diminish the look of a hook nose.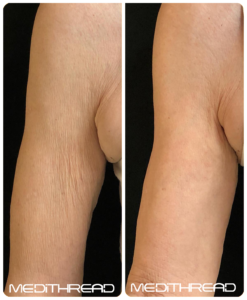 Benefits
The main advantage of a MediThread treatment is that it does not require the cost or downtime of an invasive surgery. The team at PSS prioritizes patient care. We strive to provide cutting-edge treatments and techniques that offer efficient solutions to unique problems and yield impressive results.

Best Candidates
Depending on your concern, you may be a candidate for improvement in many different areas using MediThread.
Facelift & Brow Lift with MediThreads
MediThreads have been used in the face for a brow lift and for smoothing away wrinkles on the cheeks. The threads can be placed strategically along the face to administer a comprehensive lift similar to a facelift. The treatment can even be used to help with dark circles under the eye, and improve frown lines and crow's feet typically addressed with BOTOX. MediThreads can easily target specific places and are often used to lift and fill nasolabial folds around the mouth and marionette lines above the lip.
Neck Lift with MediThreads
MediThreads can help lift and smooth out the lax skin around the neck for patients seeking a less invasive neck lift option.
Body Lift with MediThreads
MediThreads aren't just used on the face and neck. There are many places on the body that can safely be treated with MediThreads, including lax skin on the arms, hands, stomach, inner thighs and knees.

Cellulite Treatment
You could also be a candidate if you dislike the cellulite on your butt and outer thigh.

The versatility of Medithreads is quite unique and the results are quite impressive.
What is a MediThread PDO Thread Lift?
A MediThread or PDO (Polydioxanone) thread lift is a non-invasive treatment which lifts and tightens sagging skin tissue, using threads made of PDO (an absorbable suture material). The threads are introduced into the deeper layers of the skin. Once introduced, the threads have three effects on the skin:
Skin tightening, by contracting fat tissue and physically lifting the skin with tiny, subdermal threads
Collagen stimulation, which promotes cellular renewal and improves skin texture, fine lines, and elasticity.
Instant skin lifting, through strategic placement of placement and weaving of PDO threads.
What Areas Can Be Treated?
The PDO thread lift is very versatile, allowing practically all areas of the body to be treated, including the:
Upper and Lower Cheeks
Jawline
Neck
Nasolabial Folds
Marionette Lines
Nose Tip
Under-Eye
Arm
Hand
Inner Thigh
Belly Button
Décolleté
Breast
Buttocks
Lips
Eyelids
Crow's Feet
Glabella
Smokers Line
Arch of the Eyebrows
Facial Profile
Periocular Area
Abdomen
Hips
Armpit
Knees
Consultation
During your consultation, the Plastic Surgery Specialists team will describe in detail the entire MediThread process as well as how to care for yourself after the procedure. Steps to take and medications to avoid during the weeks leading up to your treatment will be explained as well. During your appointment, make sure you explain all the areas you wish to enhance or improve so that your surgeon can understand your aesthetic goals and set expectations. One of our board-certified plastic surgeons will complete a full examination to assess what the best options will be for you. Questions and concerns will be happily addressed during your consultation as well.
What to Avoid Before and After a PDO Thread Lift Procedure
Three days before the procedure, like other treatments involving injections, avoid alcohol, blood-thinning agents like aspirin and ibuprofen, and supplements such as vitamin E and omega fish oils. Two weeks after a PDO Thread Lift procedure you are also discouraged from undergoing any dental treatment (which requires you to open your mouth excessively.) It is strongly advised to sleep on your back to help the swelling subside and to avoid putting pressure on the face that might cause misalignment of the threads.
The Procedure
The PDO threads are inserted into the skin with sterile needles or cannulas. Once inserted, the barbed threads anchor to the skin and the practitioner contours the face or other treatment area. The excess threads are then cut off. Depending on the areas treated, the procedure may take 15-30 minutes to contour.
There will be slight discomfort during the procedure, but because of the improved techniques and MediThread's innovative needles, patients are experiencing less pain.
Recovery
After the procedure, your treated area may be swollen and discolored. These symptoms should fade within a few days. Many patients are able to return to work after treatment but should avoid strenuous activities or applying pressure to the area.

Results
You will see an improvement in the treatment area right away but the best improvements will be seen as the threads dissolve and boost the collagen levels in your skin. Your results will last you a while and with a healthy lifestyle can be maintained to look their best. When used to lift facial contours, the results typically remain for about 12-15 months after the procedure due to the collagen stimulation effects.
Combination Treatments With PDO Thread Lift
A PDO thread lift can be performed alone, or together with other aesthetic treatments, such as anti-aging filler injections or Botox.
Cost
The cost of your treatment will relate to how many areas you have treated and the number of threads needed to improve those areas. A cost breakdown will be given during your consultation. If you would like to learn more, give us a call today or click here and schedule a consultation. PSS offers convenient financing options designed to fit a wide range of budgets.

Over

50,000

procedures performed
Over

75

years of combined experience
Our experienced team of surgeons combine an aesthetic perspective, the ability to listen closely to your needs, and the skills to achieve those desires. This combination of talent is a hallmark of a world-class plastic surgery clinic, located in Marin County, CA.
Meet Dr. HvistendahlMeet Dr. DouglasMeet Dr. Poulos
Black Diamond
FAQ
What is a PDO Thread Lift?
The PDO (Polydioxanone) thread lift is a non-invasive treatment which lifts and tightens sagging skin tissue, using threads made of PDO. The threads are introduced into the deeper layers of the skin. Once introduced, the threads have 3 amazing effects on the skin:

• Skin tightening by contracting fat tissue.
• Collagen stimulation, which promotes cellular renewal and improves skin texture, fine lines, and elasticity.
• Instant skin lifting, through strategic placement of placement and weaving of PDO threads.

The lifted facial contour will remain for about 12-15 months after the procedure due to the collagen stimulation effects. Six months after the procedure, PDO threads will disappear because they are absorbable. Your skin cells are stimulated to produce new collagen, and new blood vessels to improve skin microcirculation. At the same time, the PDO threads cause the fat tissue to contract and produce the skin tightening effect.
Is a PDO Thread Lift Safe?
This treatment is safe, and the side effects are, in fact, rare which is what makes PDO threads so innovative.
MediThread PDO threads are inserted with needles and are absorbed in 4-6 months.
MediThread's PDO threads have minimized if not eliminated any of the side effects associated with older thread lifting procedures.
These effects included infection and thread breakage. With a modern treatment, expect some mild bruising, swelling, and soreness for 2 to 6 days after the procedure and a mild sensation of tightness of up to 2 weeks. Temporary mild dimpling of the skin can also occur and resolves in a few days. Although side effects are extremely rare and in more serious cases removal of threads may be required in cases such as migration and extrusion. The face has a very complex anatomical structure. Therefore, intimate anatomical knowledge is required to perform a PDO thread lift well so as to avoid serious side effects such as infection. We advise practitioners to get well trained in PDO thread lift. If you are interested in the many benefits of a MediThread treatment, schedule a consultation with us today.

Am I Suitable For a PDO Thread Lift?
The PDO Thread Lift is an effective treatment that is suitable for anyone looking to improve the appearance of sagging skin. This treatment is suitable for someone who is willing to undergo some injections and who wants to attain an immediate lift and facial contour without undergoing an invasive surgical facelift. It is best suited for men and women who are unwilling to tolerate the long downtime of a facelift surgery but want to look refreshed and rejuvenated.
Is a PDO Lift Right For Me?
The PDO thread lift procedure is designed according to what you want to treat and which areas you want to concentrate on. PDO threads can be used for lifting, rejuvenation (improving skin texture and wrinkles), volumizing, and even reducing fat. Different threads are used for different purposes, so the possibilities are endless.
 
In about 6 months after the treatment, the threads would have dissolved, but the results will continue. Depending on your needs your practitioner may recommend repeating the procedure 6-9 months after the first procedure to allow for a long-lasting result.
Are There Different Types of PDO Threads?
There are many types of PDO threads and this can be confusing for patients and even doctors. In general, PDO threads can be divided into Smooth threads and Barbed threads.
Smooth threads are used to stimulate collagen.
Barbed threads are used to lift and reposition the skin.
PDO threads come in different thickness and length. These all affect their quality, tensile strength, effectiveness, and of course, price of your treatment. MediThread provides the strongest threads on the market. Your doctor may choose to use different kind of threads for you, depending on your rejuvenation and skin lifting needs.

How to Find Us
Plastic Surgery Specialists is known throughout the Bay Area for our excellence and expertise. Choose your area below to get accurate, easy-to-follow directions to our center.